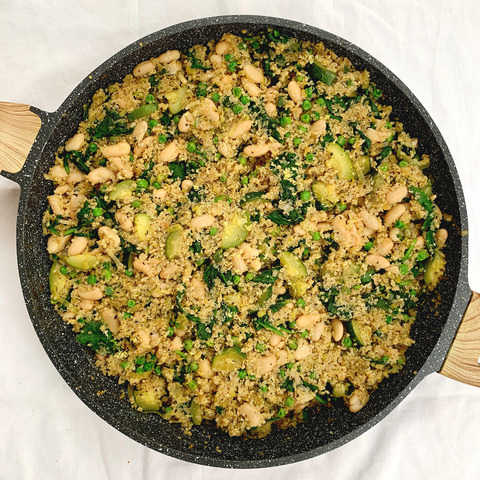 Recipe:
Celebrate the flavors of spring with this easy skillet meal full of green goodness.
Fresh lemon and zingy herbs brighten up a simple quinoa and vegetable dish. Spinach, one of my top ten beauty foods, is one of the best sources of eye-protective antioxidants lutein and zeaxanthin. Spinach also provides iron, which may help protect nails and hair from becoming brittle. Plus, spinach along with zucchini and lemon offers vitamin C, an anti-aging antioxidant.
Ingredients:
1 cup dry quinoa
1 ¾ cups vegetable broth
1 teaspoon extra virgin olive oil
1 leek, chopped
3 cloves garlic, minced
1 teaspoon dried basil
1 teaspoon dried thyme
1 zucchini, chopped
4 cups baby spinach
1 cup frozen peas
1 15 oz can white cannellini beans, drained and rinsed
2 tablespoons lemon juice
1 teaspoon lemon zest
Instructions:
In a medium-sized pot, combine quinoa and vegetable broth and bring to a boil. Reduce heat to low and cook, covered, for another 15-20 minutes until quinoa is fluffy and all of the liquid has evaporated.
Add olive oil to a large pan over medium heat. Add leek and sauté until softened. Stir in garlic and cook for another minute. Add in basil, thyme, and zucchini and sauté until zucchini is tender. Add in baby spinach and cook until wilted. Stir in cooked quinoa, frozen peas, and beans and cook for another minute until warmed through. Remove from heat and stir in lemon juice and zest.
Yields 6 servings
Per serving: 232 calories, 11.1 g protein, 42.6 g carbohydrates, 9.8 g fiber, 5.6 g sugars, 2.1 g fat, 0.2 g saturated fat, 0 g trans fat, 0 mg cholesterol, 342 mg sodium, 116 mg calcium, 0.1 g omega-3 fats, 1034 IU vitamin A, 18.2 mg vitamin C, 0.7 mg vitamin E, 3.9 mg iron, 0.5 mg zinc