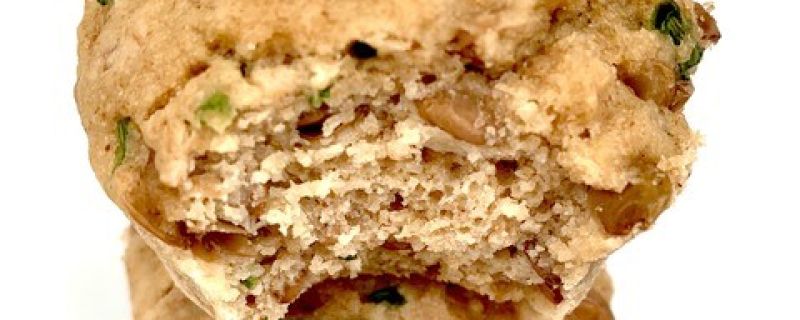 Ingredients:
1 3⁄4 cups white whole wheat flour
1⁄2 cup almond flour
2 teaspoons baking powder
1 teaspoon salt
1 teaspoon garlic powder
1 1⁄4 cups almond milk
2 tablespoons apple cider vinegar
1⁄4 cup extra virgin olive oil
1⁄2 cup minced chives
1 15 oz can lentils, drained and rinsed
Instructions:
Preheat the oven to 375 degrees Fahrenheit and line a 12-cup muffin tray with cupcake liners (or grease with cooking spray).
In a large bowl, combine whole wheat flour, almond flour, baking powder, salt, and garlic powder and mix until fully combined.
In a separate medium-sized bowl, combine almond milk, vinegar, and oil and mix until combined. Stir the wet mixture into the dry mixture and mix until combined. Fold the chives and lentils into the batter.
Distribute the batter evenly between the muffin cups. Bake for 20-25 minutes until a toothpick inserted into the center comes out clean. Let cool fully before eating.
Yields: 12 servings
Per serving: 172 calories, 6.8 g protein, 21.5 g carbohydrates, 5.1 g fiber, 0.8 g sugars, 7.6 g fat, 0.8 g saturated fat, 0 g trans fat, 0 mg cholesterol, 285 mg sodium, 173 mg calcium, 0.1 g omega-3 fats, 126 IU vitamin A, 1.7 mg vitamin C, 2.6 mg vitamin E, 2 mg iron, 0.5 mg zinc