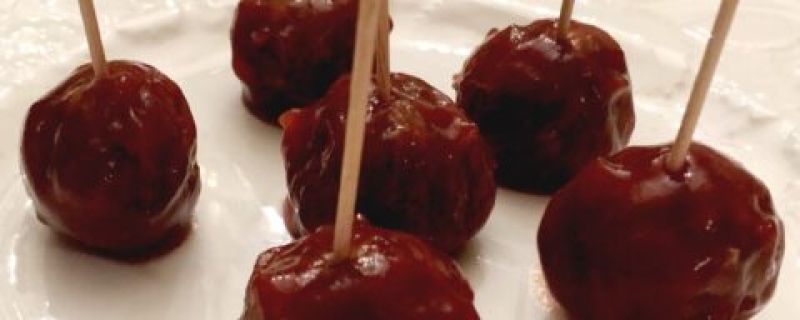 Ingredients:
For the meatballs:
1 cup toasted walnuts
3 cloves garlic
1 15 oz can lentils, rinsed and drained
1 tablespoon ground flaxseed
1⁄2 teaspoon salt
1⁄4 cup panko breadcrumbs
For the sauce:
3⁄4 cup jellied cranberry sauce
1⁄2 cup ketchup
2 tablespoons apple cider vinegar
1 tablespoon brown sugar
Instructions:
In a food processor, pulse together walnuts and garlic until they resemble coarse crumbs. Add in lentils, ground flax, and salt and pulse until smooth. Stir in panko.
Preheat oven to 350 degrees Fahrenheit and line a baking sheet with parchment paper. Roll tablespoon-size pieces of the mixture into balls and place on baking sheet. Bake for 30 minutes.
In a small saucepan or pot, combine cranberry sauce, ketchup, vinegar, and brown sugar. Mix well and simmer on medium heat for about 5 minutes, until slightly thickened.
Coat each lentil walnut "meatball" with cocktail sauce and stick a toothpick or mini skewer in the top for serving.
Per serving: 118 calories, 3.35 g protein, 14.6 g carbohydrates, 2.7 g fiber, 7.6 g sugars, 5.45 g fat, 0.5 g saturated fat, 0 g trans fat, 0 mg cholesterol, 200 mg sodium, 17 mg calcium, 0.08 g omega-3 fats, 54 IU vitamin A, 1.4 mg vitamin C, 0 mg vitamin E, 0.9 mg iron, 0 mg zinc
Yields 15 servings (2 "meatballs" per serving)