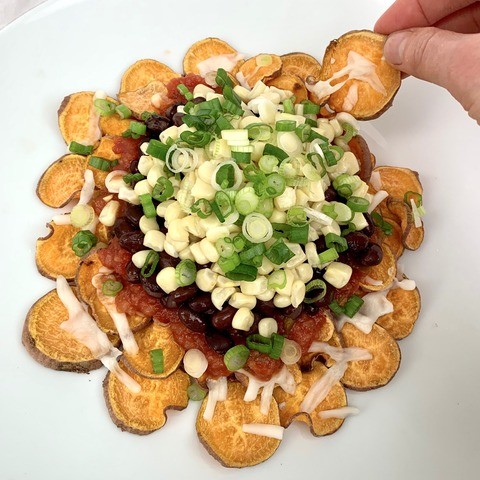 Recipe:
This nacho-inspired dish recreates the flavors and textures of nachos with healthier ingredients. Thinly sliced sweet potatoes are baked into crunchy chips and used in place of deep-fried tortilla chips. Sweet potatoes are an excellent source of beta carotene, a powerful antioxidant that may help protect against wrinkles and aid in eye health.
These nachos are topped with cheese, zesty salsa, hearty black beans, sweet corn, and fresh scallions. These toppings provide contrasting textures and flavors that make for a delicious and unique snack!
Note: to make this recipe vegan, replace the cheese with diced avocado
Ingredients:
4 medium sweet potatoes, thinly sliced
½ cup shredded part-skim mozzarella cheese
1 cup salsa
1 15 oz can black beans, drained and rinsed
1 cup cooked corn
2 scallions, thinly sliced
Instructions:
Preheat the oven to 375 degrees Fahrenheit and line two baking sheets with parchment paper. Place sliced sweet potatoes on the baking sheet in a single layer and bake for 20-25 minutes, until crispy and slightly golden. Sprinkle cheese on top and bake for another 5-10 minutes, until cheese is melted. Top with salsa, black beans, corn, and scallions.
Yields 4 servings
Per serving: 354 calories, 17.2 g protein, 66.5 g carbohydrates, 15.7 g fiber, 8.8 g sugars, 3.9 g fat, 1.8 g saturated fat, 0 g trans fat, 9 mg cholesterol, 852 mg sodium, 192 mg calcium, 0.1 g omega-3 fats, 18932 IU vitamin A, 8.7 mg vitamin C, 2.2 mg vitamin E, 3.7 mg iron, 2.5 mg zinc