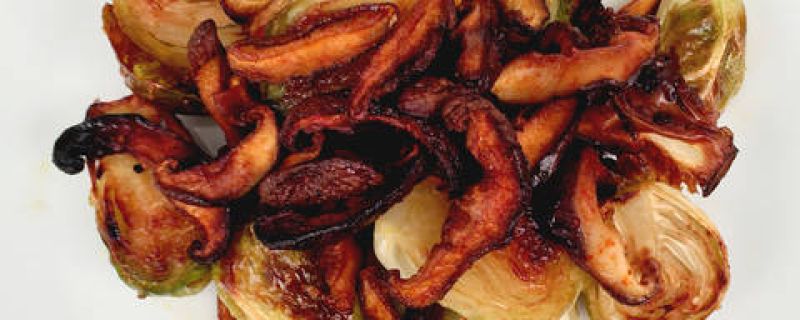 Ingredients:
1 lb brussels sprouts, trimmed and sliced in half
1 tablespoon maple syrup
1⁄4 teaspoon salt
2 teaspoons extra virgin olive oil
4 oz shiitake mushrooms, de-stemmed and sliced
1 tablespoon low sodium soy sauce
1⁄2 teaspoon smoked paprika
Instructions:
Preheat oven to 425 degrees Fahrenheit and line a baking sheet with parchment paper. Toss brussels sprouts with maple syrup, salt, and 1 teaspoon of the olive oil and spread in one layer on the prepared baking sheet. Toss the mushrooms with the remaining 1 teaspoon oil along with the soy sauce and smoked paprika. Sprinkle the mushrooms over the Brussels sprouts and move to fill spaces so everything is in one layer. Place in the oven for 20-30 minutes, until golden brown and crispy.
Yields : 4 servings
Per serving: 84 calories, 4.8 g protein, 15.8 g carbohydrates, 5.1 g fiber, 6.5 g sugars, 1.7 g fat, 0.2 g saturated fat, 0 g trans fat, 0 mg cholesterol, 320 mg sodium, 49 mg calcium, 0.1 g omega-3 fats, 955 IU vitamin A, 96 mg vitamin C, 1 mg vitamin E, 1.7 mg iron, 0.8 mg zinc