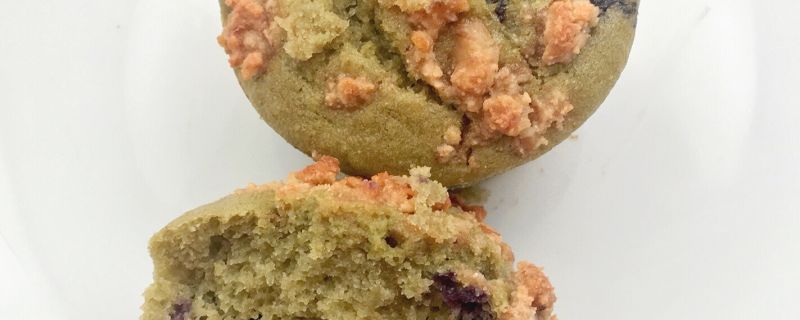 Ingredients:
For the walnut crumb topping:
1⁄4 cup walnuts
2 tablespoons oat flour
1 tablespoon maple syrup
1⁄8 teaspoon salt
For the muffins:
2 cups white whole wheat flour
1 1⁄2 tablespoons matcha powder
1 tablespoon baking powder
1⁄2 teaspoon salt
1 13.5 oz can reduced fat coconut milk (around 1 1⁄2 cups)
1 tablespoon apple cider vinegar
1 teaspoon vanilla extract
3⁄4 cup granulated sugar
2 tablespoons canola oil
1 cup fresh blueberries
Instructions:
In a blender or food processor, pulse the walnuts for a few seconds until they are crumbly but some small chunks still remain. Add oat flour, maple syrup, and salt and pulse for a few more seconds until completely combined. It should have a crumbly texture. Set aside.
Preheat oven to 375 degrees Fahrenheit. In a medium-sized bowl, whisk together flour, matcha powder, baking powder, and salt until combined. In a large bowl, mix coconut milk and apple cider vinegar and let sit for 5 minutes to curdle. Add vanilla, sugar, and canola oil and mix until combined. Stir flour mixture into the wet mixture until combined but do not overmix. Fold in blueberries. Divide the batter evenly between the cups of a 12-cup silicone muffin tray (or line a regular 12-cup muffin tray with cupcake liners and divide batter between them). Sprinkle about a teaspoon of the walnut crumble topping on top of each muffin. Bake for 20-25 minutes, until a toothpick inserted into the center of each muffin comes out clean.
Yields: 12 servings
Per serving: 192 calories, 4 g protein, 33 g carbohydrates, 2.82 g fiber, 15.72 g sugars, 6.07 g fat, 1.6 g saturated fat, 0 g trans fat, 0 mg cholesterol, 132 mg sodium, 155.8 mg calcium, 0 g omega-3 fats, 8 IU vitamin A, 1.7 mg vitamin C, 0.33 mg vitamin E, 0.86 mg iron, 0.03 mg zinc