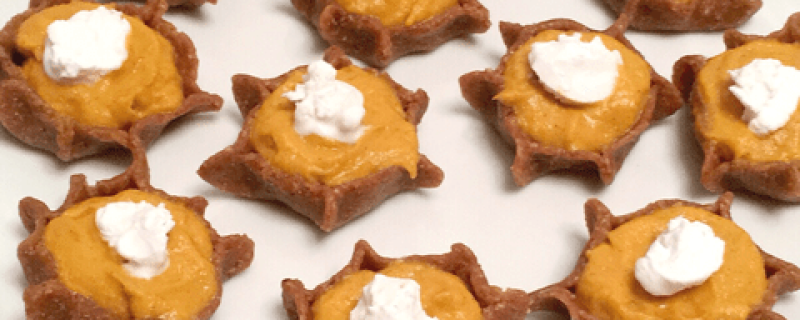 Ingredients:
For the crust:
1⁄2 cup walnuts
1⁄2 cup oats
1⁄2 teaspoon cinnamon
Pinch salt
1⁄2 cup pitted and chopped Medjool dates (about 5 dates)
1⁄4 teaspoon vanilla extract
For the filling:
3⁄4 cup pumpkin puree
1⁄4 cup raw cashews, soaked in boiling water for at least one hour and drained*
3 tablespoons maple syrup
1 teaspoon pumpkin pie spice
For the topping:
1 can (15.5 oz) full fat coconut milk, refrigerated for at least one hour
1⁄4 teaspoon vanilla extract
1 teaspoon maple syrup
Instructions:
To make the crust, combine walnuts, oats, cinnamon, and salt in a food processor or high-speed blender and process into a coarse flour. Toss the chopped dates in the oat-walnut mixture and then process again until a smooth dough forms. Add vanilla and process again. Roll into a ball and set in the refrigerator to chill while you make the filling.
To make the filling, combine pumpkin puree, soaked cashews, maple syrup, and pumpkin pie spice in a blender and blend until smooth and creamy. Set in the refrigerator to chill while you make the topping.
To make the topping, scoop 1⁄3 of the cream off the top of the can of coconut milk and place into a bowl. Beat this cream with a mixer in a bowl with the vanilla and maple syrup until smooth and fluffy.
To assemble, divide the crust mixture into 12 pieces and roll each piece into a ball. Flatten out each piece of crust into a flat circle and then pinch the edges up to create a pie crust shape. Repeat for the remaining crusts. Fill each crust with a spoonful of the filling and top with a small dollop of topping. Chill for at least 30 minutes before serving.
*Soaking the cashews softens them.  It makes it much easier to blend them and they become smooth and creamy rather than staying chunky.  If you have a very high-speed blender, such as a Vitamix, you do not have to soak the cashews beforehand.
Yields 12 servings
Per serving: 132 calories, 2.3 g protein, 15.6 g carbohydrates, 1.8 g fiber, 9.9 g sugars, 7.7 g fat, 3.2 g saturated fat, 0 g trans fat, 0 mg cholesterol, 18.65 mg sodium, 27 mg calcium, 0 g omega-3 fats, 1251 IU vitamin A, 0.5 mg vitamin C, 0 mg vitamin E, 1.2 mg iron, 0.2 mg zinc