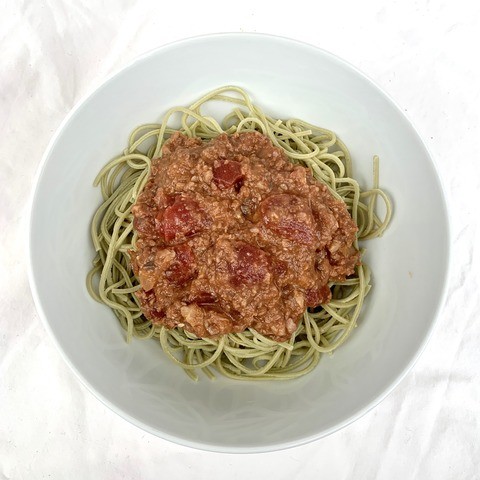 Recipe:
This meaty and flavorful Bolognese sauce is entirely plant-based yet it tastes like the real thing! Mushrooms and walnuts mimic the texture of ground beef while red wine and tomato paste provide depth of flavor. A splash of soy milk at the end adds creaminess and richness to the dish.
Walnuts, one of my top ten beauty foods, are a great source of omega-3 fatty acids, which are full of beauty benefits from keeping skin smooth to nourishing lipid membranes in the scalp to reducing inflammation in gums. Tomatoes are another one of my top ten beauty foods for their high content of lycopene, an anti-aging antioxidant.
Ingredients:
8 oz baby bella mushrooms
½ cup walnuts
1 small onion, sliced into quarters
3 cloves peeled garlic
1 teaspoon olive oil
½ cup red wine
2 tablespoons tomato paste
1 14 oz can petite diced tomatoes
1 tablespoon less sodium soy sauce
1 teaspoon maple syrup
¼ cup soy milk
8 oz edamame spaghetti (or whole grain/bean pasta of choice), cooked
Instructions:
To a food processor, add mushrooms, walnuts, onion, and garlic and pulse until slightly chunky but no large clumps remain.
Heat olive oil in a large pan over medium heat. Add the mushroom walnut mixture and cook for about 5 minutes, until all of the liquid from the mushrooms has evaporated. Add red wine, tomato paste, diced tomatoes, soy sauce, and maple syrup and cook for another 10 minutes. Remove from heat and stir in soy milk. Serve over cooked pasta.
Yields 4 servings
Per serving: 369 calories, 29.9 g protein, 34.9 g carbohydrates, 15.9 g fiber, 8.8 g sugars, 14.8 g fat, 1.6 g saturated fat, 0 g trans fat, 0 mg cholesterol, 475 mg sodium, 228 mg calcium, 1.4 g omega-3 fats, 863 IU vitamin A, 13.4 mg vitamin C, 0.6 mg vitamin E, 8.3 mg iron, 1.3 mg zinc