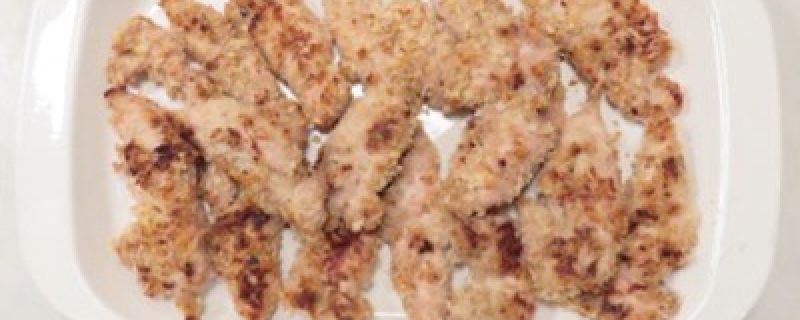 Ingredients:
Nonstick cooking spray

1 1⁄2 pounds chicken tenderloins
2 tablespoons buttermilk
1⁄2 teaspoon salt
1 cup panko
1⁄4 cup finely chopped walnuts
Instructions:
Preheat the oven to 450°F. Line a baking sheet with foil and spray with nonstick cooking spray. In a medium bowl, toss the chicken with the buttermilk and salt. Let sit for 10 minutes. Sprinkle the panko and walnuts directly into the bowl and toss well, coating all the tenders. Place on the prepared baking sheet and bake for 15 minutes or until the chicken is just cooked through and the crumbs are golden.
Yields: 4 servings (6 ounces chicken each)
Per serving: 290 calories; 37 g protein; 12 g carbohydrates; 1.1 g fiber; 1 g sugars; 9.5 g fat; 1.8 g saturated fat; 0 trans fat; 94 mg cholesterol; 422 mg sodium; 37 mg calcium; 0.73 g, omega-3 fats; 26 IU vitamin A; 0.3 mg vitamin C; 0.4 mg vitamin E; 1.5 mg iron; 1.4 mg zinc