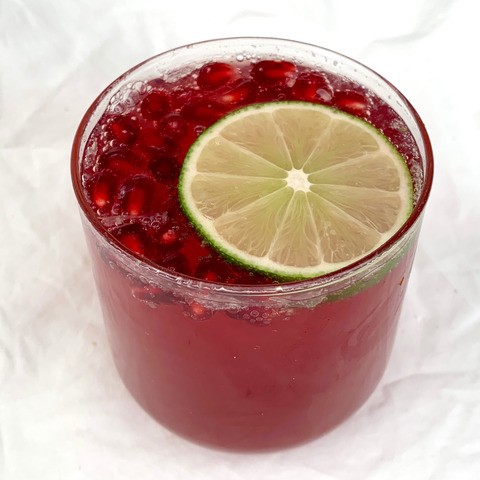 Recipe:
Fruity pomegranate and tangy lime combined with bubbly champagne makes for a wintery and elegant New Year's cocktail. Plus, pomegranates contain anthocyanins, pigments with antioxidant properties that offer powerful anti-aging skin benefits!
Ingredients:
1 cup pomegranate juice
2 tablespoons lime juice
1 cup champagne
Optional: pomegranate seeds and lime slices and ice, if desired
Instructions:
Combine pomegranate juice, lime juice, and sparkling wine and divide between two glasses. Add pomegranate seeds and lime slices if desired. Add ice before serving if desired.
Yields 2 servings
Per serving: 177 calories, 0.2 g protein, 23.4 g carbohydrates, 0.1 g fiber, 16.9 g sugars, 0 g fat, 0 g saturated fat, 0 g trans fat, 0 mg cholesterol, 31 mg sodium, 33 mg calcium, 0 g omega-3 fats, 8 IU vitamin A, 4.5 mg vitamin C, 0 mg vitamin E, 0.3 mg iron, 0.2 mg zinc