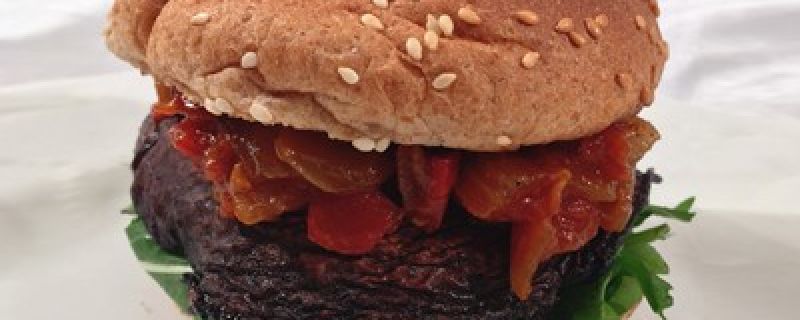 Ingredients:
For the tomato-onion jam:
1 teaspoon extra virgin olive oil
1 large Vidalia onion, chopped
3 cloves garlic, minced
1 lb tomatoes (about 5 large tomatoes), chopped
1⁄4 packed cup brown sugar
1⁄2 teaspoon salt
1 tablespoon lemon juice
For the portobello burgers:
4 portobello mushrooms, stemmed and patted dry
2 tablespoons low-sodium soy sauce
1 tablespoon extra-virgin olive oil
1⁄2 tablespoon Dijon mustard
1⁄2 tablespoon honey
1 clove of garlic, minced
To assemble:
1 cup arugula
4 whole wheat buns, toasted
Instructions:
In a large saucepan, heat olive oil over medium-high heat. Add onions and sauté until browned. Add garlic and sauté for another minute. Add in tomatoes, brown sugar, and salt, and cook for about 30 minutes, stirring occasionally, until almost all of the liquid has evaporated. Remove from heat and stir in lemon juice.
Preheat oven to 400 degrees Fahrenheit. Line a baking sheet with tinfoil. In a small bowl, mix together soy sauce, olive oil, Dijon mustard, honey, and garlic. Pour this mixture over the mushrooms, spreading it on both sides. Place mushrooms on baking sheet stem side up and bake for 15 minutes. Flip and bake for another 10-15 minutes. Place arugula on bottom half of bun, followed by mushroom and a large spoonful of tomato-onion jam. Top with the other half of the bun.
Yields: 4 servings
Per serving:309 calories, 4.4 g protein, 52.1 g carbohydrates, 6.5 g fiber, 24.4 g sugars, 6.7 g fat, 1.2 g saturated fat, 0 g trans fat, 0.5 mg cholesterol, 833 mg sodium, 156.9 mg calcium, 0 g omega-3 fats, 1163.4 IU vitamin A, 23.1 mg vitamin C, 0.6 mg vitamin E, 2.5 mg iron, 0.8 mg zinc