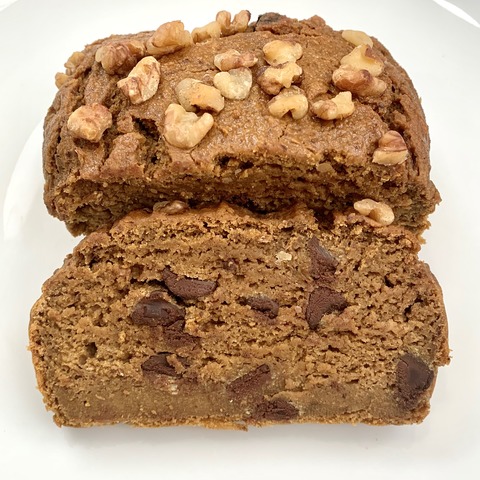 Recipe:
This moist and tender bread is full of sweet pumpkin, warming fall spices, and coffee flavor.
In the recipe, coffee and flaxseed form a flax "egg" that helps bind the bread together. Typically regular water is used to make a flax egg, but the coffee in this recipe gives a "latte" flavor.
Ground flaxseeds and walnuts provide omega-3 fatty acids for smooth and glowing skin. Pumpkin is an excellent source of beta carotene, a powerful antioxidant that may help fight against wrinkles. Dark chocolate chips add decadence to the bread and contain anti-aging antioxidants.
Ingredients:
2 cups white whole wheat flour
1 tablespoon pumpkin pie spice
2 teaspoons baking powder
½ teaspoon salt
¼ cup boiling water
1 tablespoon instant coffee
2 tablespoons ground flaxseed
1 cup unsweetened soy milk
1 tablespoon apple cider vinegar
1 ½ cups pumpkin puree
¾ cup brown sugar
2 teaspoons vanilla extract
½ cup dark chocolate chips
2 tablespoons chopped walnuts
Instructions:
Preheat the oven to 350 degrees Fahrenheit and line a loaf pan with parchment paper.
In a medium-sized bowl, combine flour, pumpkin pie spice, baking powder, and salt.
In a small bowl, dissolve instant coffee in boiling water. Stir in ground flaxseed and set aside.
In a large bowl, combine soy milk and vinegar and let sit for a minute to curdle. Whisk in the flaxseed-coffee mixture, pumpkin puree, brown sugar, and vanilla. Stir the dry mixture into the wet mixture and fold in the chocolate chips. Transfer the batter to the prepared pan and top with the walnuts. Bake for 1 hour and let cool completely before slicing.
Yields 8 servings
Per serving: 197 calories, 4.6 g protein, 35.7 g carbohydrates, 4.9 g fiber, 17.4 g sugars, 6 g fat, 2.5 g saturated fat, 0 g trans fat, 0 mg cholesterol, 109 mg sodium, 153 mg calcium, 0.4 g omega-3 fats, 3793 IU vitamin A, 0.1 mg vitamin C, 0 mg vitamin E, 3.4 mg iron, 0.2 mg zinc