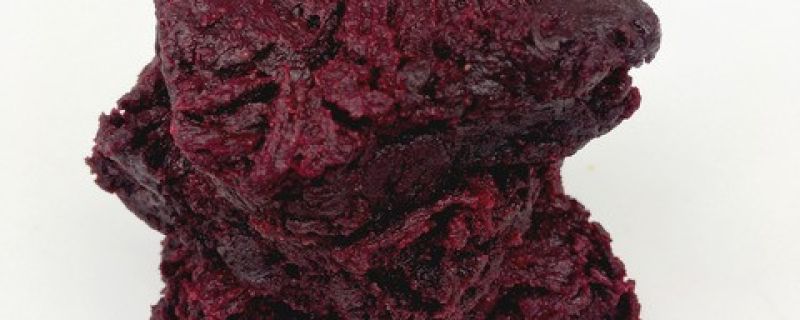 Ingredients:
2 tablespoons ground flaxseed
1⁄3 cup water
1⁄2 cup almond butter
3⁄4 cup brown sugar
1 teaspoon vanilla extract
1⁄2 cup oats, ground into a flour in a blender
1⁄2 cup cocoa powder
1⁄4 cup beet powder
1⁄2 teaspoon salt
1⁄2 teaspoon baking powder
Instructions:
Preheat oven to 350 degrees Fahrenheit. In a large bowl, combine flaxseed and water and set aside for 10 minutes to thicken. Once thickened, add almond butter, brown sugar, and vanilla extract and stir well to combine.
In a medium-sized bowl, combine oat "flour", cocoa powder, beet powder, salt, and baking powder and mix well. Stir the dry mixture into the wet mixture until fully combined (the batter will be very thick).
Grease a small (around 8×8) baking pan with cooking spray and spread mixture evenly into the pan, smoothing the top. Bake for 15-20 minutes, depending on how well-done you prefer your brownies. The brownies will still be soft when you take them out of the oven but should firm up as they cool. Slice into 16 squares.
Yields: 16 servings
Per serving: 106 calories, 2.8 g protein, 14.9 g carbohydrates, 2.6 g fiber, 10.2 g sugars, 5.1 g fat, 0.6 g saturated fat, 0 g trans fat, 0 mg cholesterol, 98 mg sodium, 54 mg calcium, 0.15 g omega-3 fats, 0 IU vitamin A, 0.4 mg vitamin C, 1.9 mg vitamin E, 1.6 mg iron, 0.3 mg zinc