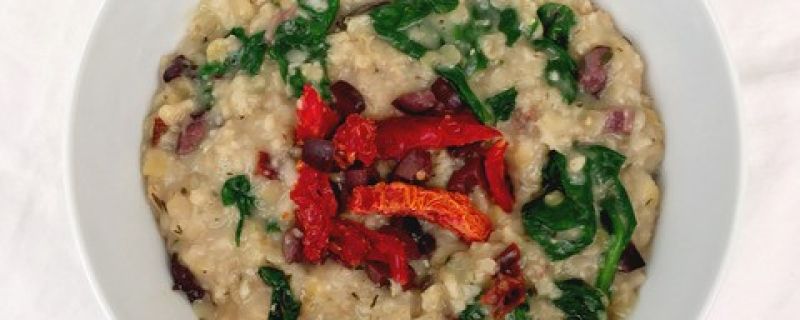 Ingredients:
1 teaspoon extra virgin olive oil
1 small shallot, chopped (around 2 tablespoons chopped)
2 cloves garlic, minced
1 teaspoon dried thyme
2 1⁄2 cups vegetable broth
3⁄4 cup rolled oats
1⁄4 cup red lentils
2 tablespoons chopped kalamata olives (around 5 olives)
2 tablespoons chopped sun-dried tomatoes (not packed in oil)
4 oz fresh baby spinach
Instructions:
In a medium-sized pot, add olive oil and heat over medium heat. Add shallot and sauté until softened. Add garlic and sauté for another minute. Add thyme, vegetable broth, oats, and lentils and cook over medium-high heat, stirring occasionally, for 15-20 minutes. Once the oatmeal has thickened and the lentils are cooked, stir in olives, sun-dried tomatoes, and spinach and cook until spinach has wilted.
Yields: 2 servings
Per serving: 293 calories, 12.6 g protein, 44.6 g carbohydrates, 8.9 g fiber, 5.3 g sugars, 7.6 g fat, 0.7 g saturated fat, 0 g trans fat, 0 mg cholesterol, 620 mg sodium, 97 mg calcium, 0 g omega-3 fats, 3688 IU vitamin A, 20 mg vitamin C, 0 mg vitamin E, 5.2 mg iron, 0.1 mg zinc