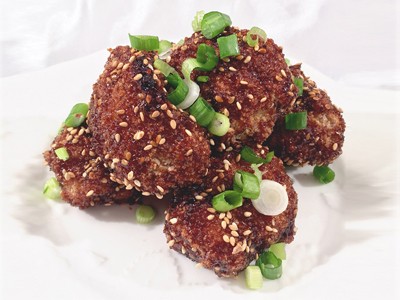 Recipe:
This dish is sure to please a crowd! The saltiness and sweetness of the sauce is balanced with the garlic, ginger, and vinegar. Top the cauliflower with scallions for a bit of freshness.
Ingredients:
1 large head cauliflower, cut into florets
2 cups white whole wheat flour
2 cups water
2 cups panko breadcrumbs
1⁄2 cup low sodium soy sauce
1⁄2 cup honey
1⁄4 cup seasoned rice vinegar
2 tablespoons cornstarch, dissolved in 6 tablespoons water to make a "slurry"
1 tablespoon toasted sesame oil
4 garlic cloves, minced
1 teaspoon fresh grated ginger
3 tablespoons toasted sesame seeds
4 scallions, thinly sliced
Instructions:
Preheat oven to 400 degrees Fahrenheit. Line two baking sheets with parchment paper. In a medium bowl, mix together flour and water until a batter forms. Place panko breadcrumbs in a separate medium bowl. Dip a cauliflower floret in the batter so it is completely covered. Roll the battered cauliflower in the panko breadcrumbs and shake off the excess and place it on one of the lined baking sheets. Repeat for the rest of the cauliflower florets. Bake the cauliflower for 20 minutes.
While the cauliflower is baking, add soy sauce, honey, rice vinegar, cornstarch "slurry", oil, garlic, and ginger in a small pot. Bring to a boil and then reduce heat to medium and cook, stirring occasionally, for 5-7 minutes, until sauce has thickened slightly. Remove from heat and stir in two tablespoons of the sesame seeds.
Once cauliflower has finished baking, remove from the oven. Dip each cauliflower piece in the sauce, shaking off the excess, and return to the baking sheet. Sprinkle the remaining tablespoon toasted sesame seeds over the cauliflower. Return cauliflower to the oven and bake for another 10 minutes. To serve, sprinkle cauliflower with sliced scallions.
Yields: 8 servings
Per serving: 332 calories, 10.3 g protein, 66 g carbohydrates, 6.2 g fiber, 20.8 g sugars, 4.3 g fat, 0.4 g saturated fat, 0 g trans fat, 0 mg cholesterol, 858.9 mg sodium, 40.5 mg calcium, 0 g omega-3 fats, 75.9 IU vitamin A, 52.7 mg vitamin C, 0.1 mg vitamin E, 1.6 mg iron, 0.4 mg zinc