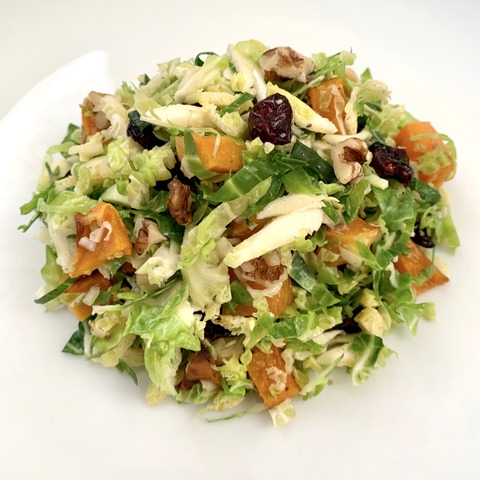 Recipe:
Roasted brussels sprouts are a Fall classic, but if you are looking for a different way to enjoy this vegetable, try this salad. The combination of crunchy shredded brussels sprouts, tender roasted squash, sweet dried cranberries, nutty walnuts, and a tangy apple vinaigrette captures the best of Fall flavors.
Brussels sprouts are rich in filling fiber and vitamin C. Butternut squash is full of beta-carotene, which may help protect skin and eyes from aging. Walnuts contain L-arginine, which can help boost circulation to skin to create a beautiful glow. They are also a terrific source of skin smoothening omega-3 fats.
Ingredients:
1 lb brussels sprouts, shredded
1 teaspoon plus 1 tablespoon extra virgin olive oil
1 small butternut squash, peeled and chopped
¼ cup dried cranberries
¼ cup toasted walnuts, chopped
¼ cup apple cider vinegar
1 tablespoon maple syrup
1 tablespoon Dijon mustard
2 tablespoons chopped shallot
¼ teaspoon salt
Pinch black pepper
Instructions:
Preheat the oven to 425 degrees Fahrenheit and line a baking sheet with parchment paper.
Toss squash with 1 teaspoon of the olive oil and transfer to the prepared baking sheet. Bake for 35-40 minutes until squash is tender and lightly browned.
In a large bowl, combine shredded brussels sprouts, cooked squash, cranberries, and walnuts.
In a small bowl, whisk together vinegar, maple syrup, Dijon mustard, chopped shallot, salt, pepper, and remaining 1 tablespoon olive oil. Pour dressing over salad and toss to coat.
Serves 6
Per serving: 157 calories, 4.2 g protein, 23.5 g carbohydrates, 5.1 g fiber, 9.4 g sugars, 6.6 g fat, 0.8 g saturated fat, 0 g trans fat, 0 mg cholesterol, 180 mg sodium, 78 mg