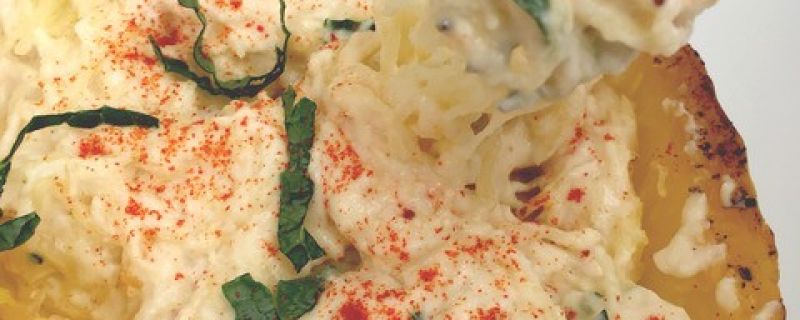 Ingredients:
1 very small spaghetti squash, sliced in half lengthwise and seeds removed
1⁄2 small head cauliflower, steamed
1⁄2 cup unsweetened almond milk
1 tablespoon lemon juice
2 cloves garlic
1⁄4 cup raw cashews, soaked in boiling water for 1 hour or cold water overnight
1 tablespoon white miso paste
1⁄4 teaspoon salt
2 tablespoons whole wheat breadcrumbs
Optional chopped parsley and smoked paprika, for garnish
Optional shredded chicken, for added protein
Instructions:
Preheat the oven to 375 degrees Fahrenheit and line a baking sheet with parchment paper. Place squash halves facedown on baking sheet and bake for around 45 minutes, until soft. Once cool, using a fork, separate spaghetti squash into strands leaving them inside the shells.
In a blender, combine steamed cauliflower, almond milk, lemon juice, garlic, cashews, miso, and salt and blend until smooth. Pour sauce on top of each shell and mix to coat the individual strands of spaghetti squash. To make this dish a complete meal, stir in shredded chicken. Top squash halves with breadcrumbs and return to the oven for 15 minutes. Top with parsley if desired.
Yields: 2 servings
Per serving: 373 calories, 10.1 g protein, 64.1 g carbohydrates, 13 g fiber, 22.7 g sugars, 13 g fat, 2.5 g saturated fat, 0 g trans fat, 0 mg cholesterol, 713 mg sodium, 300 mg calcium, 1 g omega-3 fats, 942 IU vitamin A, 50 mg vitamin C, 2.8 mg vitamin E, 3.7 mg iron, 2.8 mg zinc