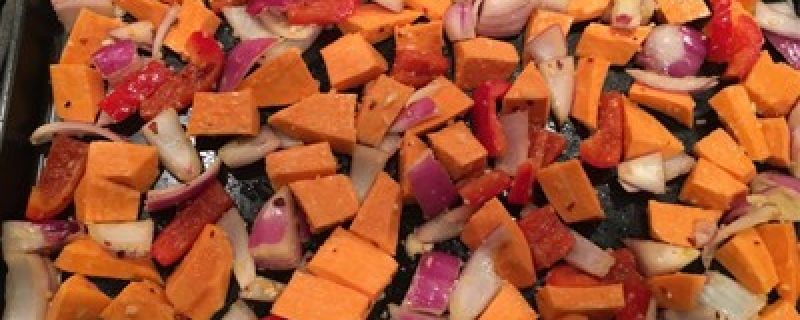 Ingredients:
1 large sweet potato (12–14 ounces), cut into 1⁄2-inch dice (3 cups)
1 medium red onion, cut into large chunks (1 cup)
1⁄2 red bell pepper, cut into 1-inch pieces (3⁄4 cup)
2 garlic cloves, sliced
1 1⁄2 tablespoons extra virgin olive oil
1 teaspoon kosher salt
1⁄2 teaspoon hot red pepper flakes
Instructions:
Preheat the oven to 425°F. Place an empty baking sheet in the oven to heat for 5 minutes. Toss all the ingredients together in a bowl until well coated; remove the tray from the oven and spread the sweet potato mixture in a single layer. Return to the oven and cook until the potatoes are tender, 30 minutes.
Yields: 4 servings
Per serving:127 calories; 2 g protein; 18 g carbohydrates; 3 g fiber; 7 g sugars; 5.5 g fat;
0.8 g saturated fat; 0 trans fat; 0 cholesterol; 505 mg sodium; 33 mg calcium; 0.1 g omega-3 fats; 13,150 IU vitamin A; 48 mg vitamin C; 2 mg vitamin E; 1 mg iron; 0.3 mg zinc