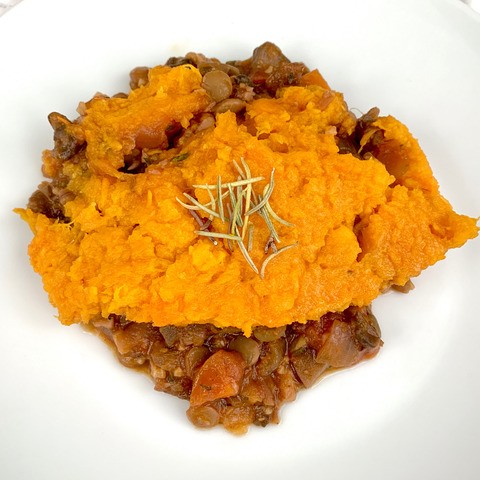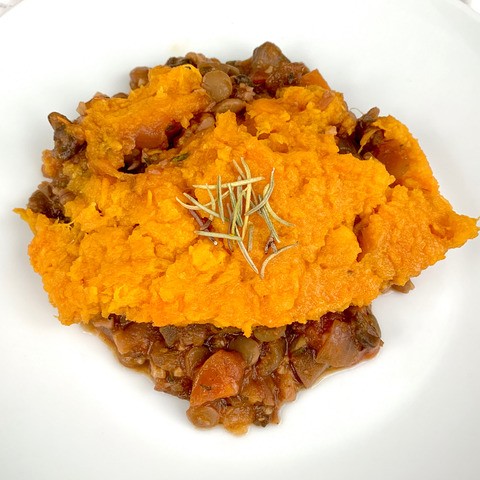 Recipe:
This hearty and comforting casserole containing three of my top ten beauty foods – sweet potatoes, tomatoes and walnuts — is full of beauty benefits!
The casserole has a savory and meaty vegetarian filling made from lentils, walnuts and mushrooms, and has a creamy sweet potato topping.
Walnuts are a great source of omega 3 fatty acids, which are important for keeping our skin smooth, our scalp healthy and our eyes sparkling. They also contain melatonin to help you get your beauty sleep. Lentils are loaded with protein and iron which are especially beneficial for keeping hair healthy and lustrous. The lycopene which is abundant in tomato paste may help protect skin from sun damage. And sweet potatoes are rich in beta carotene, which helps keep skin smooth and supple and fights against wrinkles.
Ingredients:
3 pounds sweet potatoes
1 tablespoon extra virgin olive oil
1 large onion, chopped
3 cloves garlic, minced
1 tablespoon dried thyme
2 large carrots, chopped
3 celery ribs, sliced
1 pound cremini mushrooms, finely chopped
1⁄4 cup tomato paste
1 tablespoon cornstarch
2 cups vegetable broth
1⁄4 teaspoon salt
3 cups cooked lentils
1 cup walnuts, finely chopped
Instructions:
Preheat the oven to 425 degrees Fahrenheit and line a baking sheet with parchment paper. Place sweet potatoes on the lined baking sheet and bake for around 45 minutes to 1 hour, or until soft.
In a large pan or pot, heat olive oil over medium-high heat and sauté onion until slightly browned (around 5 minutes). Add garlic and sauté another minute, then add thyme, carrots, celery, and mushrooms and sauté until vegetables are cooked (around another 5-10 minutes).
In a large bowl, whisk together tomato paste, cornstarch, vegetable broth, and salt until smooth. Pour this mixture in with the vegetables. Add in the lentils and walnuts and cook until the mixture is slightly thickened, stirring occasionally. Transfer this lentil mixture to a large casserole dish.
Peel sweet potatoes and mash with a potato masher until smooth. Spread the mashed sweet potatoes over the lentil mixture in the casserole dish. Lower the oven temperature to 350 degrees and bake for 25-30 minutes, until the top is slightly golden.
Yields: 8 servings
Per serving: 414 calories, 16 g protein, 65.3 g carbohydrates, 15.4 g fiber, 13.6 g sugars, 12.2 g fat, 1.3 g saturated fat, 0 g trans fat, 0 mg cholesterol, 543 mg sodium, 120 mg calcium, 1.4 g omega-3 fats, 27775 IU vitamin A, 11.3 mg vitamin C, 1.1 mg vitamin E, 5.7 mg iron, 2.9 mg zinc