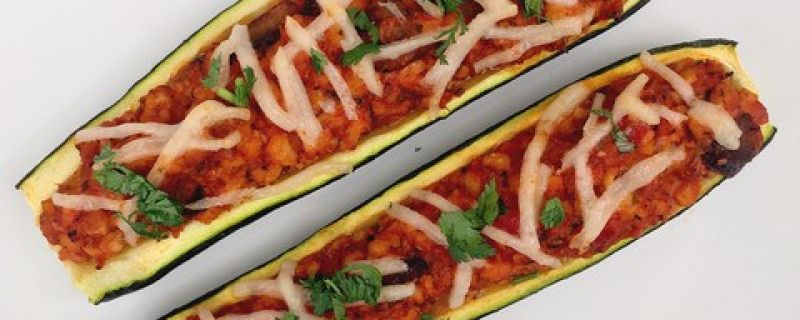 Ingredients:
4 large zucchinis, trimmed and sliced in half lengthwise
1 teaspoon extra virgin olive oil
1 small onion, chopped
2 cloves garlic, minced
1⁄2 teaspoon dried basil
8 oz cremini mushrooms, chopped
1 8 oz package tempeh, crumbled
1 cup marinara sauce
1⁄2 cup part-skim shredded mozzarella cheese
Instructions:
Preheat oven to 375 degrees Fahrenheit and line a baking sheet with parchment paper. Place zucchini halves facedown on the lined baking sheet and bake for 15-20 minutes, until slightly soft.
While the zucchini is baking, make the filling. Heat olive oil in a medium-sized pan over medium heat. Add onion and sauté until translucent and slightly browned. Add in garlic and basil and sauté for another minute. Add in mushrooms and sauté until the mushrooms have released all of their moisture. Add in crumbled tempeh and sauté for another few minutes. Stir in marinara sauce and remove from heat.
Scoop out the seeds from each zucchini half (and blot out any excess water) and stuff generously with the filling. Top each zucchini boat with about a tablespoon of mozzarella and return to the oven to bake for another 5-10 minutes, until the cheese is melted. Top with chopped parsley if desired.
Yields: 4 servings (2 stuffed zucchini halves per serving)
Per serving: 272 calories, 19.6 g protein, 27.2 g carbohydrates, 9.1 g fiber, 10.4 g sugars, 10.8 g fat, 3 g saturated fat, 0 g trans fat, 7.5 mg cholesterol, 400 mg sodium, 211 mg calcium, 0.2 g omega-3 fats, 1122 IU vitamin A, 67 mg vitamin C, 0.4 mg vitamin E, 3.3 mg iron, 1.7 mg zinc