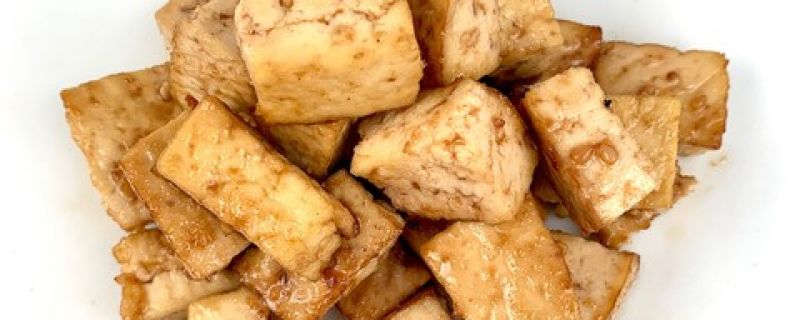 Ingredients:
8 oz super firm tofu, cubed
1 tablespoon teriyaki sauce
Instructions:
Preheat the oven to 400 degrees Fahrenheit and line a baking sheet with parchment paper. Toss the cubed protein with the teriyaki sauce until coated. Spread the protein evenly in one layer across the prepared pan. Bake for 15-20 minutes until golden brown and crispy.
Yields 1 serving
Per serving: 283 calories, 30.4 g protein, 10.8 g carbohydrates, 5.4 g fiber, 2.5 g sugars, 13.3 g fat, 2.4 g saturated fat, 0 g trans fat, 0 mg cholesterol, 400 mg sodium, 538 mg calcium, 0 g omega-3 fats, 0 IU vitamin A, 0 mg vitamin C, 0 mg vitamin E, 4.2 mg iron, 0 mg zinc