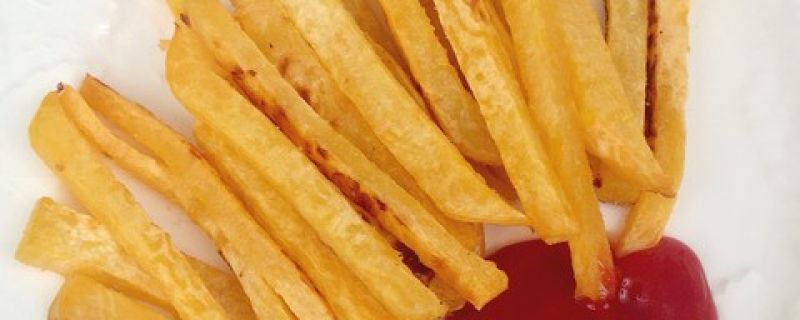 Ingredients:
For the turnip fries:
2 large turnips (or 4 small), peeled and sliced into fry shapes
1 tablespoon extra virgin olive oil
1⁄2 teaspoon salt
1⁄2 teaspoon garlic powder
For the sriracha ketchup:
1⁄2 cup ketchup
1 tablespoon sriracha (or more, depending on how spicy you would like it)
Instructions:
Preheat oven to 425 degrees Fahrenheit and line two baking sheets with parchment paper. Toss the sliced turnips with olive oil, salt, and garlic powder and arrange in one layer on the baking sheets. Bake for 30-35 minutes, until golden brown.
In a small bowl, combine ketchup and sriracha. Serve with fries.
Yields: 4 servings
Per serving: 101 calories, 1 g protein, 17.1 g carbohydrates, 1.8 g fiber, 12.2 g sugars, 3.6 g fat, 0.5 g saturated fat, 0 g trans fat, 0 mg cholesterol, 776 mg sodium, 28.8 mg calcium, 0.04 g omega-3 fats, 325 IU vitamin A, 23 mg vitamin C, 0.26 mg vitamin E, 0.4 mg iron, 0.3 mg zinc