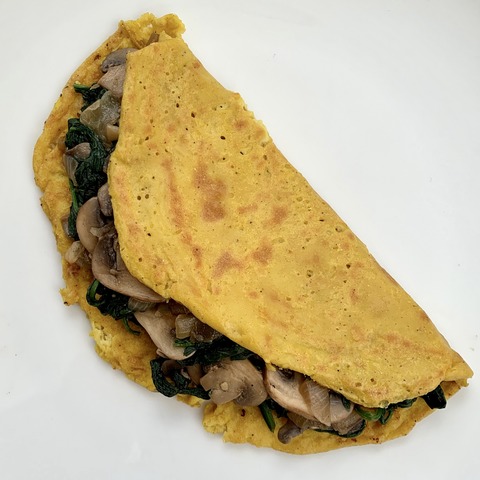 Recipe:
Who says you need eggs to make an omelet?
This omelet is completely vegan — a combination of tofu, chickpea flour, nutritional yeast, turmeric, and black salt create a dish which mimics the texture, flavor, nutritional profile, and appearance of eggs.
Black salt provides a flavor that is characteristic of eggs but if you can't find it, you may substitute regular salt instead (the omelet just won't taste as "eggy"). The "omelet" is also rich in protein like an egg omelet but free of cholesterol. The spinach filling is a great source of eye-protective nutrients lutein and zeaxanthin.
Ingredients:
1 teaspoon plus 1 tablespoon olive oil
1 small onion, chopped
8 oz mushrooms, sliced
4 cups baby spinach
Pinch salt
1 16 oz package silken tofu
½ cup chickpea flour
¼ cup nutritional yeast
1 tablespoon cornstarch
1 teaspoon garlic powder
1 teaspoon kala namak (Indian black salt) or ¾ teaspoon regular salt
½ teaspoon turmeric
¼ teaspoon black pepper
Instructions:
Add 1 teaspoon olive oil to a large pan over medium-high heat. Add onion and sauté until lightly browned, about 5 minutes. Add mushrooms and spinach and sauté until softened and until all of the water has evaporated. Season with salt and set aside.
To a blender, add tofu, chickpea flour, nutritional yeast, cornstarch, garlic powder, black salt (or salt), turmeric, and black pepper and blend until smooth.
Add remaining 1 tablespoon olive oil to a large pan over medium-low heat. Pour ¼ of the tofu mixture onto the skillet and use a spatula to spread into a thin circle. Let cook for about 5 minutes, until bubbles form. Flip the omelet and let cook for another few minutes on the other side. Add some of the vegetable mixture to half of the omelet, then fold one side over the other to sandwich the filling. Transfer the omelet to a plate and repeat for the remaining three omelets.
Yields 4 servings
Per serving: 194 calories, 13.5 g protein, 17.9 g carbohydrates, 4 g fiber, 3.3 g sugars, 8.3 g fat, 1.1 g saturated fat, 0 g trans fat, 0 mg cholesterol, 626 mg sodium, 135 mg calcium, 0.1 g omega-3 fats, 6 IU vitamin A, 8.3 mg vitamin C, 1.3 mg vitamin E, 3.1 mg iron, 1.8 mg zinc