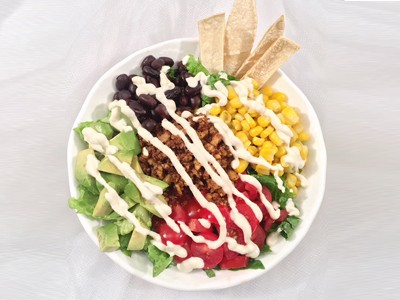 Recipe:
Ingredients:
For the walnut taco meat:
1 cup walnuts
1 tablespoon soy sauce
2 teaspoons chili powder
1 teaspoon smoked paprika
1⁄2 teaspoon cumin
1⁄2 teaspoon garlic powder
1⁄2 teaspoon onion powder
For the cashew lime cream:
1⁄2 cup cashews, soaked in hot water for at least 1 hour and drained
1 tablespoon lime juice
1⁄4 teaspoon salt
For the rest of the salad:
2 heads romaine lettuce, chopped
1 15 oz can black beans, drained and rinsed
2 cups cherry tomatoes, sliced
2 cups corn
1 avocado, diced
Optional lime wedges and corn tortilla strips, for serving
Instructions:
In a food processor, combine walnuts, soy sauce, chili powder, smoked paprika, cumin, garlic powder, and onion powder. Pulse a few times until the walnuts are crumbled, but still chunky.
In a high-speed blender, combine soaked cashews, lime juice, salt, and about 1⁄4 cup water. Blend until smooth and creamy, adding more water if needed.
In a large bowl, combine lettuce, black beans, cherry tomatoes, corn, and avocado. Top each portion with a scoop of the walnut "taco meat" and drizzle with the cashew-lime cream. Serve with lime wedges and tortilla strips if desired.
Yields: 6 servings
Per serving: 371 calories, 14 g protein, 37.2 g carbohydrates, 14.2 g fiber, 7.8 g sugars, 21.7 g fat, 2.6 g saturated fat, 0 g trans fat, 0 mg cholesterol, 620 mg sodium, 133.8 mg calcium, 0.3 g omega-3 fats, 18676.1 IU vitamin A, 20.6 mg vitamin C, 0.7 mg vitamin E, 4.9 mg iron, 0.65 mg zinc