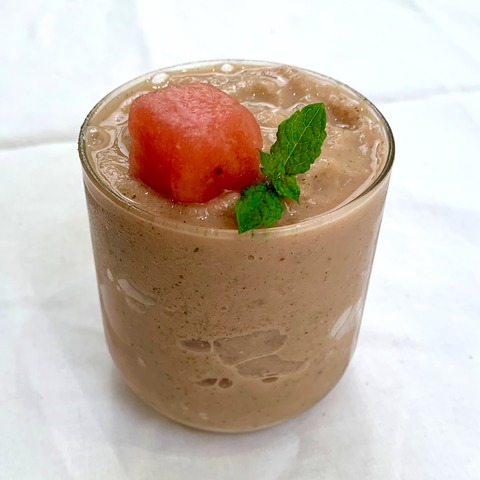 Recipe:
During those hot summer days, a frosty drink made from sweet and juicy watermelon, tart lime, refreshing mint, and tangy yogurt is the perfect treat.
Watermelon is a great source of lycopene, which may help protect against wrinkle-causing sun damage. And yogurt is one of my top ten beauty foods for its high content of calcium, which may help keep teeth strong and aid in nail growth.
Ingredients:
2 cups frozen watermelon
Juice of one lime (around 2 tablespoons)
¼ cup fresh mint leaves
½ cup nonfat vanilla Greek yogurt
Instructions:
In a blender, blend all ingredients and blend until smooth. Add water one tablespoon at a time if needed to create a smooth consistency.
Yields 2 servings
Per serving: 104 calories, 5.9 g protein, 21.2 g carbohydrates, 1.4 g fiber, 16.2 g sugars, 0.3 g fat, 0 g saturated fat, 0 g trans fat, 0 mg cholesterol, 21 mg sodium, 85 mg calcium, 0 g omega-3 fats, 1335 IU vitamin A, 18.4 mg vitamin C, 0.1 mg vitamin E, 1.9 mg iron, 0.3 mg zinc