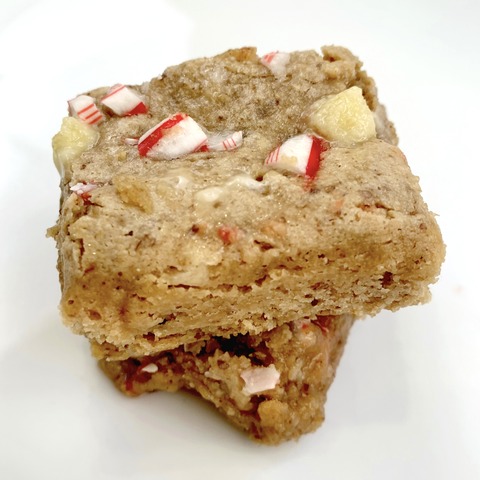 Recipe:
These rich and fudgy blondies feature sweet white chocolate and cooling peppermint. They taste extremely decadent, but they are actually made with wholesome ingredients such as flaxseed, oat flour, and cashew butter. These ingredients provide fiber, making the blondies a filling and satisfying treat. And flaxseed is a great source of omega-3 fatty acids, which help keep skin smooth and glowing.
Ingredients:
2 tablespoons ground flaxseed
⅓ cup water
½ cup raw cashew butter
⅔ cup light brown sugar
1 teaspoon vanilla extract
¼ teaspoon peppermint extract
2 cups oat flour
½ teaspoon salt
½ teaspoon baking powder
¼ cup white chocolate chips or chopped white chocolate
¼ cup chopped peppermint candy canes
Instructions:
Preheat the oven to 350 degrees Fahrenheit and line a small rectangular baking pan with parchment paper (or grease with cooking spray).
In a large bowl, combine flaxseed and water and set aside for 10 minutes to thicken. Once thickened, add cashew butter, brown sugar, vanilla, and peppermint extract and stir well to combine.
In a medium-sized bowl, combine oat flour, salt, and baking powder and mix well. Stir the dry mixture into the wet mixture until fully combined (the batter will be very thick). Fold in the chocolate chips and peppermint candy. Spread mixture evenly into the pan, smoothing the top.
Bake for 15-20 minutes, until slightly golden brown on the edges. The blondies will still be soft when you take them out of the oven but should firm up as they cool. Once cool, slice into 16 squares.
Yields 16 servings
Per serving: 175 calories, 3.3 g protein, 27.2 g carbohydrates, 2 g fiber, 12.8 g sugars, 6.5 g fat, 1.4 g saturated fat, 0 g trans fat, 1 mg cholesterol, 103 mg sodium, 45 mg calcium, 0.2 g omega-3 fats, 1 IU vitamin A, 0 mg vitamin C, 0.4 mg vitamin E, 1 mg iron, 0.4 mg zinc