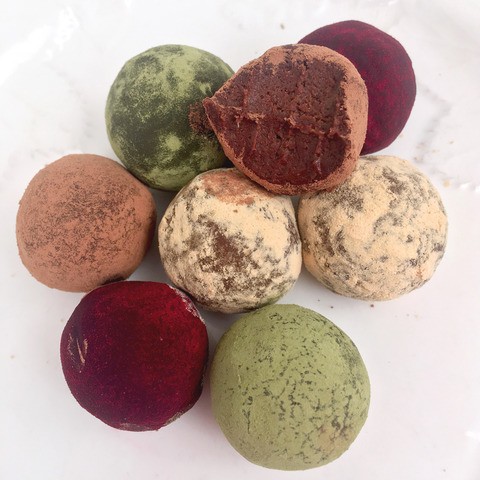 Recipe:
When chocolate cravings hit, reach for these chocolate truffles made with a secret ingredient– avocado!
Avocado makes these truffles light but still creamy and the taste is completely masked by the chocolate flavor. They have the perfect fudgy texture that you are expecting, but they feel less heavy and dense than a typical truffle.
You can customize these truffles by rolling them in whatever toppings or flavorings you desire. The substitution of avocado for heavy cream makes this treat rich in vitamin E, which helps promote lustrous hair by protecting the natural oils in your scalp. And dark chocolate, one of my top ten beauty foods, contains antioxidants that help keep skin smooth and youthful.
Ingredients:
1 small ripe avocado, pitted
2 teaspoons maple syrup
1⁄2 teaspoon vanilla extract
Pinch of salt
1⁄2 cup dark chocolate chips
Optional, for rolling: cocoa powder for standard truffles, matcha powder for matcha truffles, beet powder for beet truffles, peanut flour for peanut truffles, shredded coconut for coconut truffles
Instructions:
In a food processor, combine avocado flesh, maple syrup, vanilla extract, and salt and blend until smooth and creamy. Microwave chocolate chips in 15 second increments until completely melted, stirring between increments. Pour melted chocolate into the food processor and blend until smooth. Refrigerate the mixture for at least 30 minutes. (You can transfer the mixture to a shallow container and then refrigerate, but if you have a bullet-type blender, you can just refrigerate it directly). Then roll into around 16 truffles, by pinching off pieces of the mixture and rolling it into balls using your hands. Roll in toppings of your choice, if desired.
Yields: 8 servings (2 truffles each)
Per serving: 73.5 calories, 0.8 g protein, 7 g carbohydrates, 1 g fiber, 2 g sugars, 4.6 g fat, 1.6 g saturated fat, 0 g trans fat, 0 mg cholesterol, 21 mg sodium, 4 mg calcium, 0.02 g omega-3 fats, 25 IU vitamin A, 1.5 mg vitamin C, 0.3 mg vitamin E, 0.3 mg iron, 0.14 mg zinc