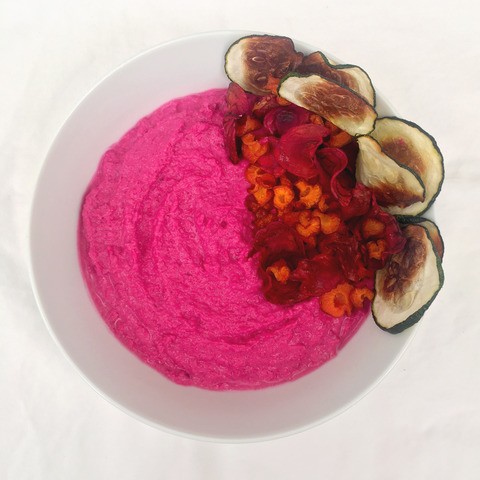 Recipe:
Adding beets to hummus gives it a delicious earthy flavor and a beautiful hot pink color! This recipe is centered around vegetables, resulting in a low-calorie and high-fiber snack.
Beets are a great source of folate, potassium, and fiber, which keeps you feeling full. Zucchini boasts fiber, potassium, and vitamin C, which keeps skin smooth and wrinkle-free. And the beta-carotene in carrots plays an important role in eye and skin health.
This hummus is super creamy and has lots of fresh lemon and garlic flavor that is often missing from store-bought brands. The addition of beets for eye-popping color makes it particularly appetizing. The veggie chips are crispy and crunchy and are the perfect accompaniment to the dip!
Ingredients:
For the veggie chips:
2 large zucchinis, sliced very thinly (1/16 inch) using a mandoline
4 large carrots, sliced very thinly (1/16 inch) using a mandoline
2 beets, peeled and sliced very thinly (1/16 inch) using a mandoline
1 tablespoon extra virgin olive oil
1⁄4 teaspoon salt
For the hummus:
1 15 oz can chickpeas, drained and rinsed
1 small peeled and cooked beet (boiled, roasted, or steamed all work)
1⁄4 cup tahini
3 cloves garlic
2 tablespoons lemon juice (juice of 1 lemon)
1⁄2 teaspoon salt
1⁄4-1⁄2 cup water
Instructions:
Preheat oven to 300 degrees Fahrenheit and line two baking sheets with parchment paper. Toss sliced vegetables with olive oil and salt and arrange in one layer on the baking sheets. (You will need to repeat this process a few times for all of the vegetables). Bake for 30-40 minutes, until crisp.
While the chips are baking, combine all hummus ingredients in a food processor and process until smooth. Start with 1⁄4 cup water and add more if you prefer a thinner consistency. Serve hummus with veggie chips.
Yields: 8 servings
Per serving: 148 calories, 5.6 g protein, 18.5 g carbohydrates, 5 g fiber, 6.8 g sugars, 6.8 g fat, 1 g saturated fat, 0 g trans fat, 0 mg cholesterol, 344 mg sodium, 54.5 mg calcium, 0.1 g omega-3 fats, 6174 IU vitamin A, 20.5 mg vitamin C, 0.2 mg vitamin E, 1.4 mg iron, 1 mg zinc