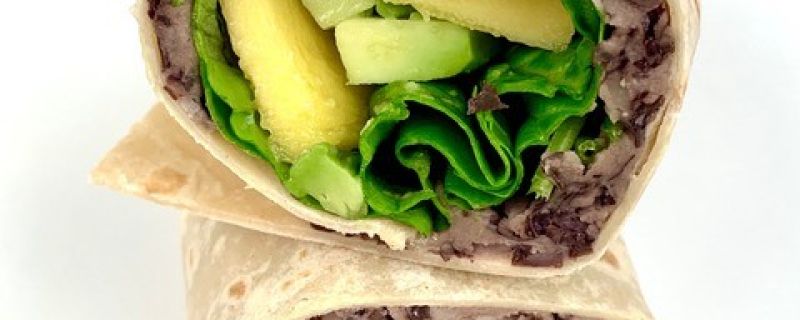 Ingredients:
1 cup canned black beans, drained and rinsed
1⁄2 teaspoon garlic powder
2 small whole wheat carb balance tortillas
1⁄2 cup baby spinach
1⁄4 of a small mango, sliced
1⁄4 of an avocado, sliced
Instructions:
In a medium-sized bowl, mash beans until smooth and stir in garlic powder. Spread half of the beans over each tortilla and then add spinach, mango, and avocado. Roll up the wraps and slice in half if desired.
Yields 1 serving
Per serving: 504 calories, 23.4 g protein, 82.2 g carbohydrates, 35.4 g fiber, 12 g sugars, 10.5 g fat, 1 g saturated fat, 0 g trans fat, 0 mg cholesterol, 876 mg sodium, 88 mg calcium, 0.3 g omega-3 fats, 2792 IU vitamin A, 41.6 mg vitamin C, 2.9 mg vitamin E, 4.9 mg iron, 2.3 mg zinc