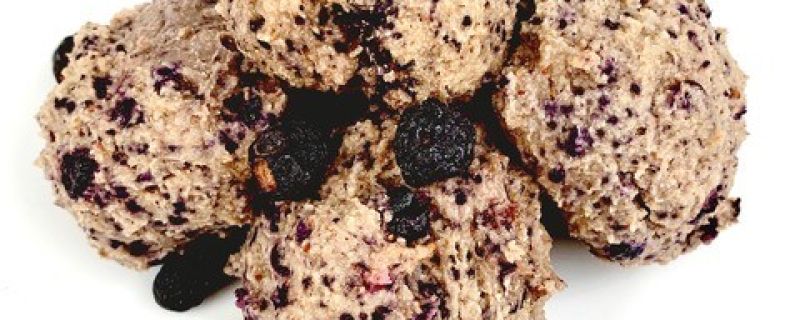 Ingredients:
1 cup white whole wheat flour
1 1⁄2 teaspoons baking powder
1⁄4 teaspoon salt
2 tablespoons granulated sugar
1 cup plain nonfat Greek yogurt
1⁄2 cup freeze-dried blueberries, crushed slightly
Instructions:
Preheat the oven to 350 degrees Fahrenheit and line a baking sheet with parchment paper.
In a medium-sized bowl, combine flour, baking powder, salt, and sugar and stir until fully combined. Stir in Greek yogurt and mix until a dough forms. Knead in the freeze-dried blueberries. Roll the dough into 12 balls and place evenly spaced on the prepared baking sheet. Bake for 15 minutes.
Yields: 6 servings (2 bagel bites per serving)
Per serving: 115 calories, 6.7 g protein, 22.3 g carbohydrates, 2.3 g fiber, 6.9 g sugars, 0.5 g fat, 0 g saturated fat, 0 g trans fat, 2 mg cholesterol, 111 mg sodium, 193 mg calcium, 0 g omega-3 fats, 2 IU vitamin A, 0 mg vitamin C, 0 mg vitamin E, 0.8 mg iron, 0.2 mg zinc