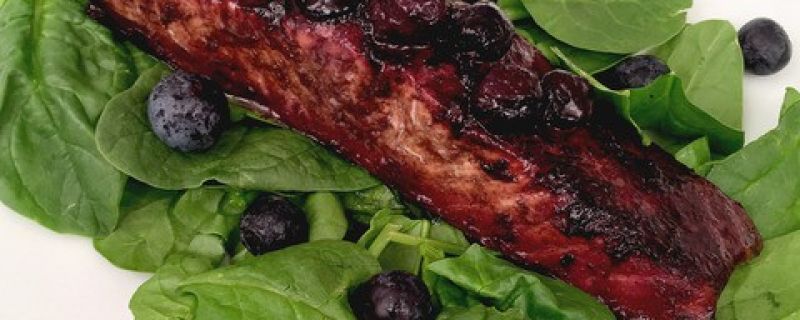 Ingredients:
1 lb salmon
1⁄4 teaspoon salt
3⁄4 cup fresh or frozen blueberries
1⁄4 cup balsamic vinegar
1 tablespoon honey
1 teaspoon fresh grated ginger
Instructions:
Preheat oven to 375 degrees Fahrenheit. Season salmon with salt and place in a shallow baking dish. In a small saucepan, combine blueberries, balsamic vinegar, honey, and ginger and bring to a boil over high heat. Reduce heat to medium-low and simmer for about 5-10 minutes, until it becomes a syrupy glaze. Pour the glaze over the salmon and bake for 25-30 minutes.
Yields: 4 servings
Per serving: 281 calories, 23.5 g protein, 11.1 g carbohydrates, 0.8 g fiber, 9.5 g sugars, 15.2 g fat, 3.5 g saturated fat, 0 g trans fat, 62.4 mg cholesterol, 216 mg sodium, 15 mg calcium, 3 g omega-3 fats, 238 IU vitamin A, 7.3 mg vitamin C, 4 mg vitamin E, 0.6 mg iron, 0.4 mg zinc