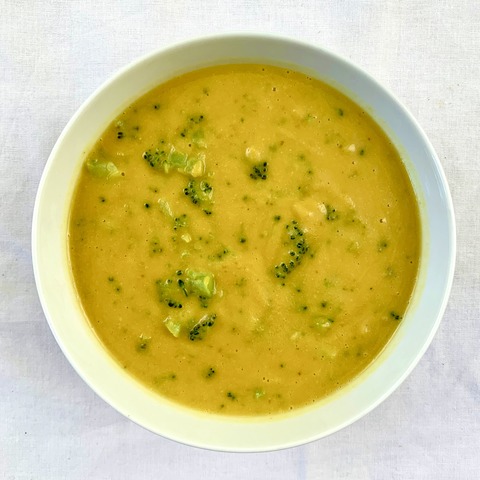 Recipe:
This rich and comforting soup is full of cheesy flavor but is completely dairy-free. The combination of carrots, potato, cashews, nutritional yeast, miso paste, and lemon juice mimics the flavor and texture of melted cheddar cheese. Blending chickpeas into the soup provides body and additional protein.
Carrots not only give this soup a cheddar-like orange color, but they are also full of beta-carotene, which keeps skin soft and smooth, and may help protect against wrinkles.
Ingredients:
1 teaspoon extra virgin olive oil
1 large onion, chopped
4 cloves garlic, minced
1 cup carrots, chopped
1 large russet potato, peeled and chopped
½ cup raw cashews
6 cups vegetable broth
1 15 oz can chickpeas, drained and rinsed
1 cup nutritional yeast
2 tablespoons white miso paste
2 large heads broccoli, finely chopped
1 tablespoon lemon juice
Instructions:
Add oil to a medium-sized pot over medium heat. Add onion and sauté until golden brown, around 5-7 minutes. Add garlic and sauté for another minute. Add carrots, potato, cashews, and broth; cover pot, and bring to a boil. Reduce heat to medium and cook, covered, for another 10-15 minutes, until potatoes and carrots are soft.
Let soup cool and transfer it to a high-speed blender along with chickpeas, nutritional yeast, and miso paste. Blend until smooth.
Return soup to pot and add in chopped broccoli. Cook over medium heat for 5-10 minutes until broccoli is tender. Remove from the stove and stir in lemon juice.
Yields Serve 6
Per serving: 278 calories, 14.3 g protein, 39.8 g carbohydrates, 8.1 g fiber, 8.2 g sugars, 8.1 g fat, 1.4 g saturated fat, 0 g trans fat, 0 mg cholesterol, 1012 mg sodium, 80 mg calcium, 0.1 g omega-3 fats, 4253 IU vitamin A, 44.6 mg vitamin C, 0.5 mg vitamin E, 3 mg iron, 1.4 mg zinc