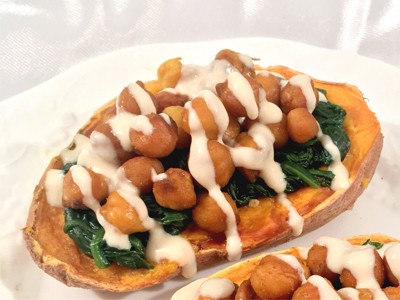 Recipe:
Ingredients:
4 medium sweet potatoes, sliced in half lengthwise
For the garlic spinach:
1 teaspoon olive oil
9 cups spinach, chopped and de-stemmed
2 cloves garlic, minced
Pinch of salt
For the chickpeas:
1 15 oz can chickpeas, drained and rinsed
1 tablespoon maple syrup
1 tablespoon soy sauce
1⁄2 teaspoon turmeric
1⁄4 teaspoon ground ginger
For the tahini sauce:
2 tablespoons tahini
1⁄2 tablespoon maple syrup
1 1⁄2 tablespoons lemon juice
Instructions:
Preheat oven to 400 degrees Fahrenheit. Place sweet potatoes face-down on a baking sheet lined with aluminum foil and baked for 25-30 minutes, or until they are soft.
Heat olive oil in a medium pan over medium heat. Add the garlic and sauté for about 30 seconds. Add spinach and salt and cook until spinach is wilted.
In a large pan, add maple syrup, soy sauce, turmeric, and ginger. Mix and heat over medium heat until the mixture comes to a simmer. Add in the chickpeas and cook until all of this liquid is gone, stirring every so often.
In a small bowl, combine tahini, maple syrup, and lemon juice. Mix until smooth. You may need to add some water to adjust the consistency.
To assemble the sweet potatoes, place spinach on sweet potato half followed by the chickpeas. Drizzle with the tahini sauce.
Yields: 4 servings
Per serving:307 calories, 11 g protein, 51 g carbohydrates, 11.5 g fiber, 10.4 g sugars, 7.7 g fat, 0.9 g saturated fat, 0 g trans fat, 0 mg cholesterol, 760.8 mg sodium, 159.5 mg calcium, 0 g omega-3 fats, 24460.4 IU vitamin A, 24 mg vitamin C, 0.5 mg vitamin E, 4.7 mg iron, 1.3 mg zinc