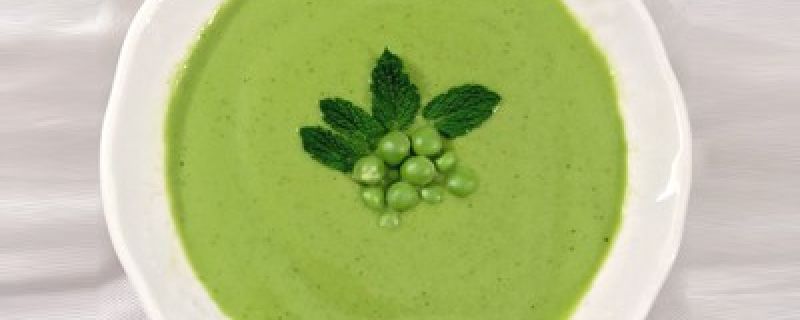 Ingredients:
1 cup boiling water
3-4 green tea bags
1 13 oz package frozen peas, defrosted
1 small avocado
2 cloves garlic
2 tablespoons lemon juice
1⁄4 cup fresh mint
1 1⁄2 cups chilled vegetable broth
1 teaspoon salt
Pinch of pepper
Instructions:
Add the tea bags to the boiling water and let steep for at least 30 minutes, or until tea is fully cooled. Remove tea bags, and add the tea, peas, avocado, garlic, lemon juice, mint, vegetable broth, salt, and pepper to a blender. Blend until smooth. This soup is best if served the same day and served chilled.
Yields: 4 servings
Per serving: 138 calories, 6.2 g protein, 17.3 g carbohydrates, 6.9 g fiber, 4.8 g sugars, 5.3 g fat, 0.7 g saturated fat, 0 g trans fat, 0 mg cholesterol, 709.9 mg sodium, 19.4 mg calcium, 0.1 g omega-3 fats, 695.9 IU vitamin A, 13.4 mg vitamin C, 0.7 mg vitamin E, 2 mg iron, 0.3 mg zinc