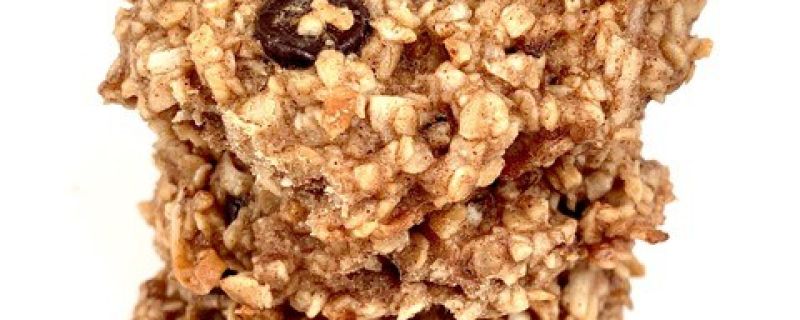 Ingredients:
2 medium-sized bananas
1⁄4 cup almond butter
2 tablespoons maple syrup
1 teaspoon vanilla extract
1 teaspoon ground cinnamon
1⁄4 teaspoon salt
1 1⁄2 cups quick-cooking oats
1⁄4 cup dark chocolate chips
1⁄4 cup unsweetened shredded coconut
Instructions:
Preheat the oven to 350 degrees Fahrenheit and line a baking sheet with parchment paper.
In a medium-sized bowl, mash bananas using a potato masher or a fork. Stir in almond butter, maple syrup, vanilla, cinnamon, and salt. Then stir in oats to form a batter and fold in chocolate chips and coconut.
Scoop around 2 tablespoons of batter on the baking sheet and flatten it slightly into a cookie shape. Repeat for the rest of the batter (you should get around 12 cookies), leaving a little bit of space between cookies. Bake for 15-20 minutes until firm and slightly golden on the edges.
Yields: 12 servings
Per serving: 142 calories, 3.3 g protein, 19.4 g carbohydrates, 3 g fiber, 6.7 g sugars, 7 g fat, 2.7 g saturated fat, 0 g trans fat, 0 mg cholesterol, 62 mg sodium, 30 mg calcium, 0 g omega-3 fats, 13 IU vitamin A, 1.7 mg vitamin C, 1.3 mg vitamin E, 1.7 mg iron, 0.5 mg zinc