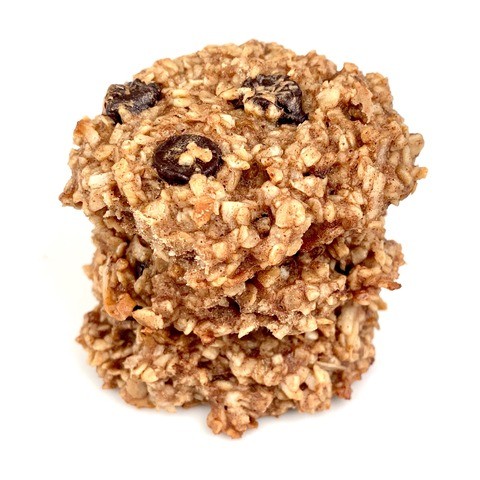 Recipe:
These sweet and nutty cookies are almost healthy enough for breakfast!
Bananas, almond butter, quick oats, and a bit of maple syrup form the base of a cookie that is crunchy on the outside and soft in the middle, while cinnamon, vanilla, coconut, and dark chocolate add decadent flavor.
Almond butter provides vitamin E, which aids in keeping eyes clear, hair shiny, and skin smooth. Bananas and oats pack these cookies with fiber, which keeps you full and offers many health benefits. And dark chocolate, one of my top ten beauty foods, is loaded with antioxidants to help keep skin soft, supple, and wrinkle-free.
Ingredients:
2 medium-sized bananas
1⁄4 cup almond butter
2 tablespoons maple syrup
1 teaspoon vanilla extract
1 teaspoon ground cinnamon
1⁄4 teaspoon salt
1 1⁄2 cups quick-cooking oats
1⁄4 cup dark chocolate chips
1⁄4 cup unsweetened shredded coconut
Instructions:
Preheat the oven to 350 degrees Fahrenheit and line a baking sheet with parchment paper.
In a medium-sized bowl, mash bananas using a potato masher or a fork. Stir in almond butter, maple syrup, vanilla, cinnamon, and salt. Then stir in oats to form a batter and fold in chocolate chips and coconut.
Scoop around 2 tablespoons of batter on the baking sheet and flatten it slightly into a cookie shape. Repeat for the rest of the batter (you should get around 12 cookies), leaving a little bit of space between cookies. Bake for 15-20 minutes until firm and slightly golden on the edges.
Yields: 12 servings
Per serving: 142 calories, 3.3 g protein, 19.4 g carbohydrates, 3 g fiber, 6.7 g sugars, 7 g fat, 2.7 g saturated fat, 0 g trans fat, 0 mg cholesterol, 62 mg sodium, 30 mg calcium, 0 g omega-3 fats, 13 IU vitamin A, 1.7 mg vitamin C, 1.3 mg vitamin E, 1.7 mg iron, 0.5 mg zinc