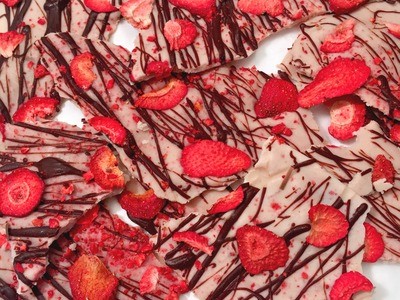 Recipe:
Ingredients:
3 6 oz containers nonfat strawberry-flavored Greek yogurt
1⁄4 cup dark chocolate chips
1 teaspoon coconut oil
1 1⁄2 cups freeze-dried strawberries
Instructions:
Line a large baking sheet with wax paper. Spread yogurt in a thin layer over the wax paper. In a small microwave-safe bowl, combine dark chocolate and coconut oil. Microwave in 10-second intervals, stirring between intervals, for about one minute, or until chocolate is completely melted. Drizzle melted chocolate over the yogurt. Top with freeze-dried strawberries. You can also reserve 1⁄2 cup of the strawberries and crush them and then sprinkle this "strawberry dust" all over the yogurt. Freeze for at least two hours or overnight. Once frozen, peel the bark off of the wax paper and break it into uneven pieces. Store leftovers in the freezer until ready to serve.
Yields: 10 servings
Per serving: 65 calories, 3.8 g protein, 9.9 g carbohydrates, 0.9 g fiber, 6.1 g sugars, 1.25 g fat, 0.87 g saturated fat, 0 g trans fat, 1.5 mg cholesterol, 18 mg sodium, 49.5 mg calcium, 0 g omega-3 fats, 0 IU vitamin A, 12.3 mg vitamin C, 0 mg vitamin E, 0.25 mg iron, 0 mg zinc