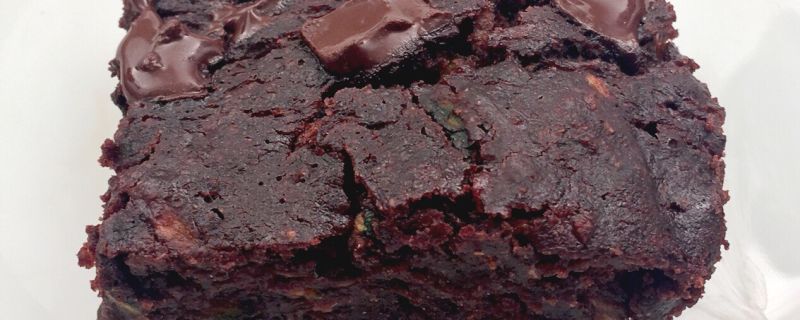 Ingredients:
1 1⁄2 cups white whole wheat flour
1⁄3 cup dark cocoa powder
2 teaspoons baking powder
1⁄2 teaspoon salt
1 cup unsweetened almond milk
1 tablespoon apple cider vinegar
1⁄4 cup unsweetened applesauce
1⁄4 cup almond butter
2 teaspoons vanilla extract
3⁄4 cup granulated sugar
1 1⁄2 cups shredded zucchini
1⁄4 cup dark chocolate chunks (or chips)
Instructions:
Preheat oven to 350 degrees Fahrenheit. In a medium-sized bowl, whisk together flour, cocoa powder, baking powder, and salt until combined. In a large bowl, mix almond milk and apple cider vinegar and let sit for 5 minutes to curdle. Add applesauce, almond butter, vanilla, and sugar and whisk until smooth and combined. Stir in zucchini.
Stir flour mixture into the wet mixture until combined but do not overmix. Grease a medium-sized baking pan well and pour in cake batter. Smooth out the top and top with dark chocolate chunks. Bake for 30-35 minutes, until the center of the cake is firm to the touch. Let cool for at least 30 minutes and then slice into 12 squares.
Yields: 12 servings
Per serving: 167 calories, 4.22 g protein, 30.24 g carbohydrates, 4 g fiber, 15.32 g sugars, 5.28 g fat, 1.35 g saturated fat, 0 g trans fat, 0 mg cholesterol, 142 mg sodium, 132.6 mg calcium, 0.01 g omega-3 fats, 42 IU vitamin A, 2.83 mg vitamin C, 0.87 mg vitamin E, 2.4 mg iron, 0.05 mg zinc