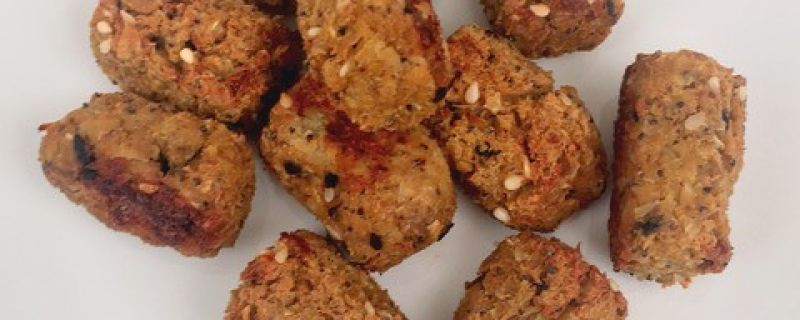 Ingredients:
1 small head cauliflower, roughly chopped
1 15 oz can chickpeas, drained and rinsed
1⁄3 cup nutritional yeast
2 tablespoons ground flaxseed
1⁄2 cup whole wheat panko breadcrumbs
2 tablespoons toasted sesame seeds
2 tablespoons dried minced onion
1 tablespoon dried minced garlic
1 tablespoon poppy seeds
1 teaspoon kosher salt
Instructions:
Preheat oven to 425 degrees Fahrenheit and line a baking sheet with parchment paper. Add cauliflower and chickpeas to a food processor and process until finely chopped. Transfer to a large bowl and stir in nutritional yeast, flaxseed, breadcrumbs, sesame seeds, minced onion, minced garlic, poppy seeds, and salt. Let sit for 5-10 minutes and then shape into tots and place on lined baking sheet. Bake for 30-35 minutes, until golden brown. (Optional– spray tots with cooking spray before baking for extra crispiness).
Yields: 8 servings
Per serving: 112 calories, 6.2 g protein, 15.6 g carbohydrates, 4.8 g fiber, 2.2 g sugars, 3.2 g fat, 0.2 g saturated fat, 0 g trans fat, 0 mg cholesterol, 332 mg sodium, 46.8 mg calcium, 0.3 g omega-3 fats, 8 IU vitamin A, 16.2 mg vitamin C, 0.1 mg vitamin E, 1.2 mg iron, 0.7 mg zinc