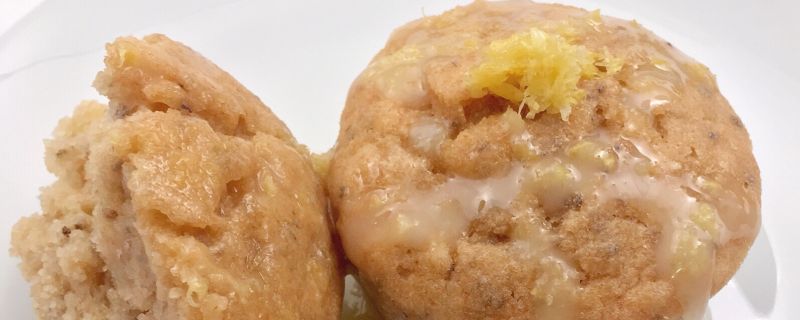 Ingredients:
For the muffins:
1 3⁄4 cups white whole wheat flour
2 teaspoons baking powder
1⁄2 teaspoon salt
1 1⁄4 cups unsweetened almond milk
1⁄2 cup lemon juice
1⁄2 cup sugar
1⁄3 cup unsweetened applesauce
1⁄4 cup extra virgin olive oil
1 1⁄2 tablespoons chia seeds
1 teaspoon vanilla extract
1 tablespoon lemon zest
For the glaze:
1⁄3 cup powdered sugar
2 tablespoons lemon juice
1 tablespoon lemon zest
Instructions:
Preheat oven to 350 degrees Fahrenheit. Line a cupcake tray with cupcake liners or use a silicone cupcake tray. In a large bowl, mix flour, baking powder, and salt. In a medium-sized bowl, mix almond milk and lemon juice. The mixture will become very curdled — this is normal. Mix in sugar, applesauce, olive oil, chia seeds, vanilla, and lemon zest. Let sit for about 10 minutes. Then, slowly pour dry mixture into wet mixture and stir until incorporated but do not overmix. Scoop batter into prepared cupcake tray. Bake for 22-25 minutes, until a toothpick inserted into the center comes out clean. Let cool for about 10 minutes.
In a small bowl combine powdered sugar, lemon juice, and lemon zest. Brush the top of each muffin with a spoonful of glaze.
Yields: 12 servings
Per serving: 165 calories, 2.9 g protein, 27.7 g carbohydrates, 2.8 g fiber, 12.65 g sugars, 5.9 g fat, 0.74 g saturated fat, 0 g trans fat, 0 mg cholesterol, 194 mg sodium, 114.4 mg calcium, 0.36 g omega-3 fats, 103 IU vitamin A, 6.3 mg vitamin C, 0.74 mg vitamin E, 0.59 mg iron, 0.17 mg zinc