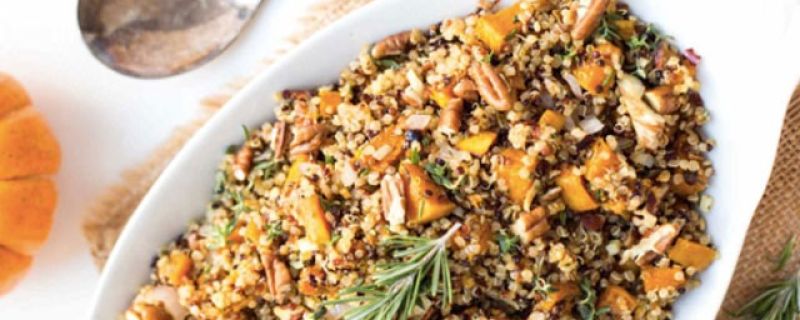 Gluten-Free and Vegan Thanksgiving Recipes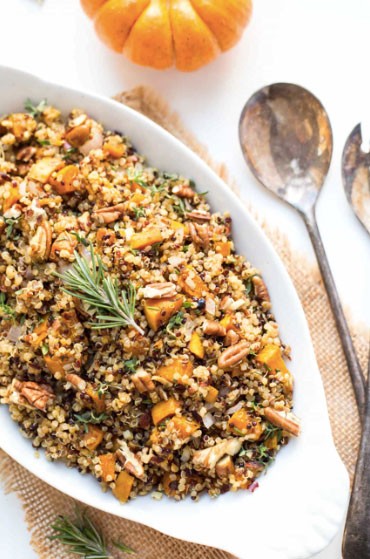 If you or your guests are following a gluten-free or vegan diet this Thanksgiving, here are some unique recipe ideas for the feast that will satisfy.
The gluten-free recipes include substitutes for dishes that typically have gluten, such as stuffing, while the vegan recipes can substitute for dishes that typically have animal products, such as turkey.
Gluten-free recipes:
Sure, you could substitute gluten-free bread for regular bread in stuffing and call it a day. But you can also create an unconventional grain stuffing using quinoa, butternut squash, pecans, and lots of fall herbs.
This classic cornbread is gluten-free and vegan, and incorporates aquafaba, (whipped chickpea brine), as an egg substitute. Gluten-free all-purpose flour substitutes for regular flour.
If you eat a gluten-free diet, you can still enjoy warm, buttery pull-apart rolls at Thanksgiving dinner. These rolls use a gluten-free almond flour blend in place of all-purpose flour.
Gravy is traditionally thickened with a roux, a mix of flour and fat. Here, sweet rice flour acts as a thickener to make a traditional gravy that has no gluten. ​
This pumpkin pie is completely grain-free and dairy-free, so almost anyone with a dietary restriction of some kind can enjoy it. Almond flour makes a paleo crust and blended cashews give the pie a creamy filling without dairy.
Vegan recipes:
Seitan, a chewy meat substitute made from wheat gluten, makes for a great turkey replacement at a Thanksgiving table. This seitan roast is glazed with a savory red wine sauce and is surrounded by vegetables.
Creamy soups used in traditional green bean casseroles often contain dairy. This vegan-friendly casserole uses pureed chickpeas to replace the cream-based soup and a crunchy hazelnut topping for a lighter and healthier dish. ​
Biscuits are usually loaded with butter, but these biscuits are essentially fat-free, using mashed potatoes to bind the dough. They are the perfect accompaniment to vegan mushroom gravy.
Not all vegans are looking for a "meaty" main dish at their Thanksgiving tables. These stuffed squash halves are an elegant plant-based main dish that isn't trying to imitate meat.
Pecan pie is very rich, so this recipe replaces the butter and eggs with heart-healthy flaxseed meal and nut butter. It is also free of corn syrup and refined sugar.
About the Author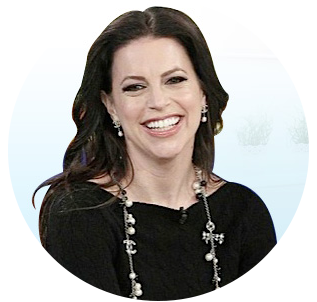 Lisa Drayer, M.A., R.D., is a nationally known nutritionist and health journalist. She is a contributor to CNN and is the author of THE BEAUTY DIET: Looking Great Has Never Been So Delicious (McGraw-Hill) and STRONG, SLIM, and 30! Eat Right, Stay Young, Feel Great and Look FABULOUS (McGraw-Hill). For more information, visit www.lisadrayer.com.