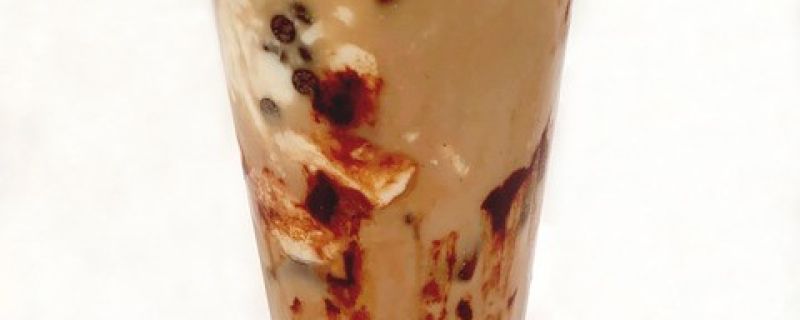 Ingredients:
1 cup hot coffee
2 tablespoons unsweetened cocoa powder
1 cup unsweetened vanilla almond milk (or low-fat milk)
2 tablespoons maple syrup
Ice
2 tablespoons whipped cream
2 teaspoons mini semisweet chocolate chips
Instructions:
Stir 1 tablespoon of the cocoa powder into the hot coffee and let cool. Add the almond milk and 1 tablespoon of the maple syrup. In a small bowl, combine the remaining tablespoon of cocoa powder and maple syrup and stir until combined. Drizzle this "chocolate sauce" around the inside of the glasses. Fill glasses with ice and then pour in the coffee mixture. Top with whipped cream and mini chocolate chips.
Yields: 2 servings (about 8 oz each)
Per serving: 108 calories, 2.1 g protein, 19.9 g carbohydrates, 2.2 g fiber, 14.4 g sugars, 3.8 g fat, 1.2 g saturated fat, 0 g trans fat, 3 mg cholesterol, 92 mg sodium, 274 mg calcium, 0 g omega-3 fats, 0 IU vitamin A, 0 mg vitamin C, 3.5 mg vitamin E, 2.7 mg iron, 0.5 mg zinc