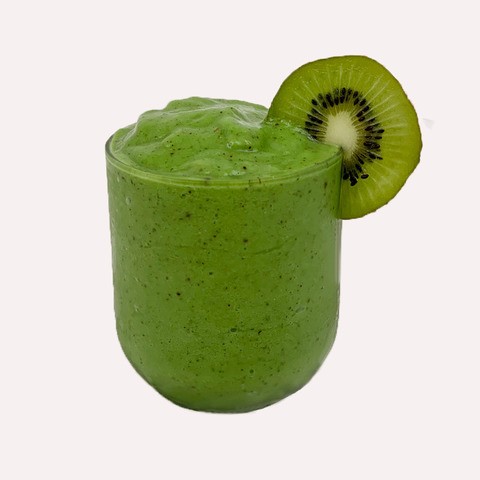 Recipe:
Avocado in a smoothie may sound strange, but it gives an incredibly creamy and silky texture to a smoothie, almost like ice cream. Plus, it is a great source of vitamin E, which helps protect lipid membranes in the skin and scalp, keeping skin smooth and hair shiny.
Frozen bananas add frothy texture and sweetness to the smoothie. Kiwis, one of my top ten beauty foods for their high vitamin C content, add a tangy, tropical flavor. Spinach, another one of my top ten beauty foods, doesn't add much flavor but provides lots of lutein and zeaxanthin, which may help keep eyes clear and bright.
Ingredients:
2 fresh kiwis, peeled and chopped
1 small frozen banana
1 cup frozen peaches
1 cup baby spinach
1⁄2 a small avocado
1 cup unsweetened almond milk
Instructions:
Add all ingredients to a blender and blend until smooth.
Yields: 2 servings (about 6 oz each)
Per serving: 196 calories, 3.9 g protein, 33.4 g carbohydrates, 8 g fiber, 18.7 g sugars, 7.2 g fat, 0.8 g saturated fat, 0 g trans fat, 0 mg cholesterol, 112 mg sodium, 287 mg calcium, 0 g omega-3 fats, 2477 IU vitamin A, 84.4 mg vitamin C, 5.7 mg vitamin E, 1.8 mg iron, 1.3 mg zinc