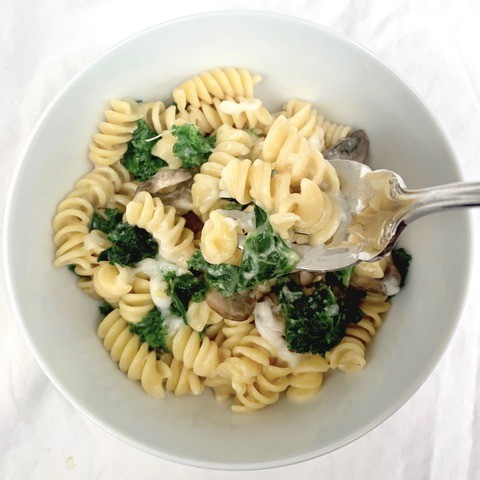 Recipe:
A big pot of gooey mac and cheese is the ultimate comfort food, but it's often high in calories and saturated fat. My version has all of the gooeyness and fewer calories, plus it is super filling– you won't need three portions to be satisfied!
Using chickpea pasta instead of regular white pasta adds protein to the dish, making it more satiating. Mushrooms and kale add texture and bulk to the mac and cheese, making the portions larger and lower in calories. The additional substitutes of olive oil in place of butter and almond milk in place of whole milk help cut back on saturated fat in the recipe. Kale adds vitamin C and vitamin E, anti-aging antioxidants which help keep skin smooth and supple.
Ingredients:
1 tablespoon plus 1 teaspoon extra virgin olive oil
8 oz baby bella or white mushrooms, sliced
4 oz kale, chopped and de-stemmed
8 oz chickpea pasta (or whole grain pasta)
¼ cup all-purpose flour
2 cups unsweetened almond milk
1 cup part-skim shredded mozzarella cheese
Optional additional salt and pepper to taste
Instructions:
Add 1 teaspoon of the oil to a large pan and heat over medium-high heat. Add in the mushrooms and kale and cook until softened. Set aside.
Bring a large pot of water to a boil and cook pasta until al dente.
Add 1 tablespoon of the oil to a large pot and heat over medium heat. Whisk in the flour to form a paste and cook for a few minutes. Slowly add the almond milk in stages, whisking with each new addition. Once all of the almond milk has been added and the mixture has thickened, stir in the cheese. Once cheese has melted, stir in the cooked pasta, mushrooms, and kale. Add salt and pepper to taste, if needed
Yields 4 servings
Per serving: 427 calories, 23 g protein, 50.5 g carbohydrates,9.7 g fiber, 4.2 g sugars, 15.4 g fat, 4.4 g saturated fat, 0 g trans fat, 18 mg cholesterol, 300 mg sodium, 558 mg calcium, 0.1 g omega-3 fats, 3252 IU vitamin A, 34 mg vitamin C, 4.9 mg vitamin E, 4.1 mg iron, 1.9 mg zinc