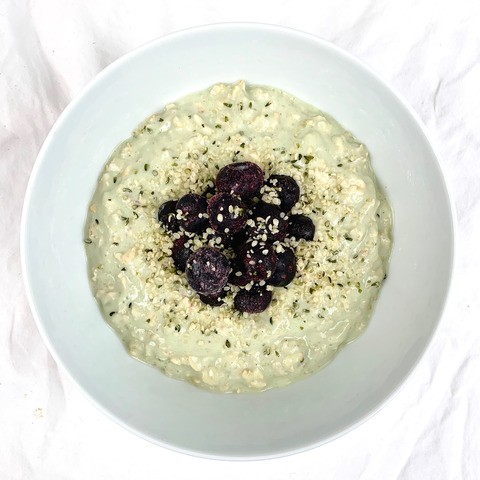 Recipe:
A big bowl of oatmeal is a great way to start your day, but who has time to cook a pot of oats every morning? Overnight oats are prepared in advance so all you have to do in the morning is grab a spoon and enjoy!
Oats are rich in filling fiber to keep you satisfied for hours. A combination of soy milk and soy yogurt creates the perfect creamy custard-like consistency and provides protein and calcium, which are essential for beautiful posture, strong nails, and a sparkling smile.
This overnight oats recipe incorporates antioxidant-rich blueberries and omega-3 rich hemp seeds. Matcha, a form of powdered green tea, is rich in the antioxidant EGCG, a plant compound with antioxidant and anti-inflammatory properties.
Ingredients:
1⁄2 teaspoon matcha powder
1 tablespoon hemp seeds
1 cup fresh or frozen blueberries
Instructions:
Make basic overnight oats recipe and stir in 1⁄2 teaspoon matcha powder, 1 tablespoon hemp seeds, and 1 cup fresh or frozen blueberries.
Yields 1 serving
Per serving: 450 calories, 18.8 g protein, 68.2 g carbohydrates, 9.4 g fiber, 29.5 g sugars, 13.4 g fat, 1.8 g saturated fat, 0 g trans fat, 0 mg cholesterol, 59 mg sodium, 456 mg calcium, 1.2 g omega-3 fats, 431 IU vitamin A, 15.6 mg vitamin C, 0.9 mg vitamin E, 3.9 mg iron, 1.8 mg zinc