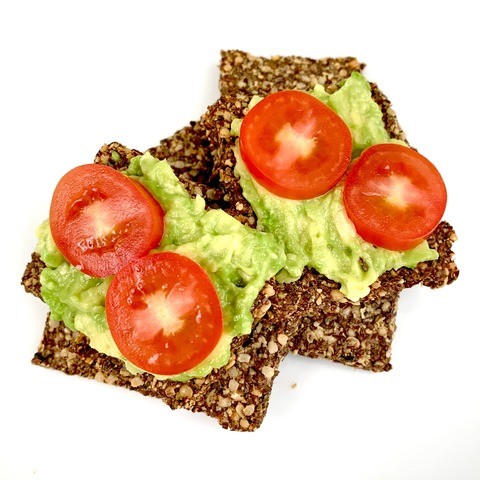 Recipe:
These are super crackers! A blend of flax seeds, chia seeds, and hemp seeds make them full of protein, fiber, and omega-3 fatty acids!
The crackers are crunchy, nutty, and lightly seasoned (you can spice them up more with any additional seasonings you like). They are also vegan and gluten-free. For added nutrients, you can top the crackers with mashed avocado and tomato.
Protein is an essential building block for skin, nails, and hair, and fiber helps to keep you slim. Omega-3 fatty acids are full of beauty benefits, from keeping skin smooth and eyes healthy and clear to reducing inflammation in gums and keeping hair soft and shiny.
Ingredients:
3⁄4 cup ground flaxseeds
1⁄4 cup chia seeds
1⁄4 cup hemp seeds
3⁄4 teaspoon salt
1⁄2 teaspoon garlic powder
1⁄2 teaspoon onion powder
1⁄2 teaspoon sugar
1⁄4 cup plus 2 tablespoons water
Optional: 1⁄2 teaspoon each basil oregano, and thyme for herbed crackers
Optional: mashed avocado and tomato slices, for topping
Instructions:
Preheat the oven to 400 degrees Fahrenheit and line a baking sheet with parchment paper. In a large bowl, combine ground flax, chia, hemp, salt, garlic powder, onion powder, and sugar and mix. Add herbs if making herbed crackers.
Add in water and mix until a dough forms. Roll out the dough using a rolling pin until it is very thin (around 1⁄4 of an inch thick). Place onto the lined baking sheet and slice into squares. Bake for 15 minutes. Turn off the oven and leave crackers in for another 5-10 minutes, until crispy. Top with mashed avocado and tomato if desired.
Yields: 6 servings (around 24 crackers, 4 crackers per serving)
Per serving: 161 calories, 6.7 g protein, 9.2 g carbohydrates, 8.1 g fiber, 0.6 g sugars, 12.5 g fat, 1.2 g saturated fat, 0 g trans fat, 0 mg cholesterol, 326 mg sodium, 95 mg calcium, 5.8 g omega-3 fats, 267 IU vitamin A, 0.2 mg vitamin C, 0.1 mg vitamin E, 1.8 mg iron, 1.3 mg zinc