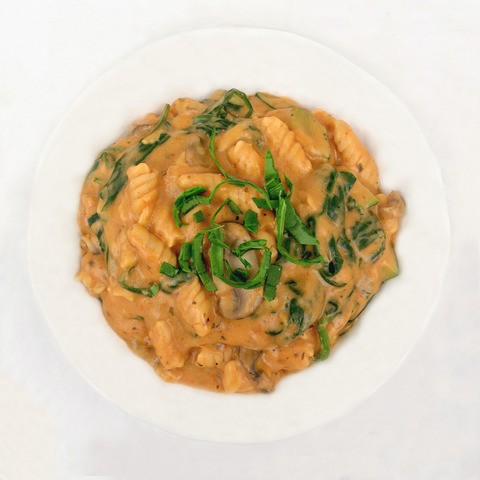 Recipe:
Pasta is a quick and easy weeknight meal, but pasta on its own often lacks protein, making it less filling. Enter pasta made from chickpeas. It has the amazing chewy texture of pasta, but is rich in protein and fiber.
This one-pot wonder is insanely easy to prepare, saves you dishes, and will keep you satiated for hours. The milk and the starch from the pasta give this dish a super creamy sauce, which is full of tomato and garlic flavor. You can customize it by using any vegetables you prefer or adding some nutritional yeast or parmesan for a cheesy flavor.
Spinach and tomatoes are two of my top ten beauty foods because they contain lutein and zeaxanthin, antioxidants that help keep eyes clear and bright. Calcium in the milk can help keep your teeth strong and sparkling. And the protein in the chickpea pasta and the milk help keep hair long and healthy, nails strong, and skin supple.
Ingredients:
1 1⁄2 cups marinara sauce
2 cups 1% milk (or nondairy milk of choice)
1 zucchini, chopped
8 oz cremini mushrooms, stemmed and sliced
1⁄2 teaspoon salt
3 cloves garlic, minced
1 8 oz package chickpea pasta, any shape
4 oz spinach
Instructions:
Add sauce, milk, zucchini, mushrooms, salt, and garlic in a medium-sized pot and bring to a boil. Once boiling, add in pasta and lower heat to medium-low. Cook for another 8-10 minutes, stirring occasionally, until the pasta is cooked and the liquid has turned into a sauce. Add spinach and cook for a few more seconds until wilted. Top with parmesan cheese or nutritional yeast, if desired.
Yields: 4 servings
Per serving: 342 calories, 20 g protein, 57 g carbohydrates, 7 g fiber, 18 g sugars, 5 g fat, 0.8 g saturated fat, 0 g trans fat, 6 mg cholesterol, 779 mg sodium, 276 mg calcium, 0.04 g omega-3 fats, 2734 IU vitamin A, 22 mg vitamin C, 0 mg vitamin E, 5.7 mg iron, 1.3 mg zinc