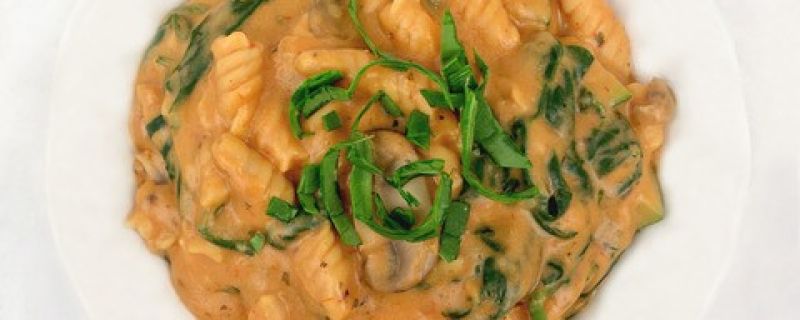 Ingredients:
1 1⁄2 cups marinara sauce
2 cups 1% milk (or nondairy milk of choice)
1 zucchini, chopped
8 oz cremini mushrooms, stemmed and sliced
1⁄2 teaspoon salt
3 cloves garlic, minced
1 8 oz package chickpea pasta, any shape
4 oz spinach
Instructions:
Add sauce, milk, zucchini, mushrooms, salt, and garlic in a medium-sized pot and bring to a boil. Once boiling, add in pasta and lower heat to medium-low. Cook for another 8-10 minutes, stirring occasionally, until the pasta is cooked and the liquid has turned into a sauce. Add spinach and cook for a few more seconds until wilted. Top with parmesan cheese or nutritional yeast, if desired.
Yields: 4 servings
Per serving: 342 calories, 20 g protein, 57 g carbohydrates, 7 g fiber, 18 g sugars, 5 g fat, 0.8 g saturated fat, 0 g trans fat, 6 mg cholesterol, 779 mg sodium, 276 mg calcium, 0.04 g omega-3 fats, 2734 IU vitamin A, 22 mg vitamin C, 0 mg vitamin E, 5.7 mg iron, 1.3 mg zinc