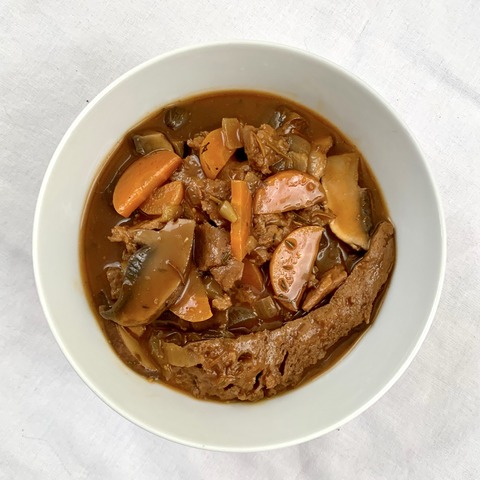 Recipe:
A warm bowl of chunky stew is the ultimate winter dinner. This stew has juicy portobellos which soak up the rich red wine broth, plus chewy seitan strips to add more meaty texture.
Tomato paste provides a deep tomato flavor and is a concentrated source of lycopene, a powerful antioxidant. Carrots are an excellent source of beta-carotene, which helps skin stay healthy and smooth.
Ingredients:
1 tablespoon extra virgin olive oil
1 large onion, chopped
4 cloves garlic, minced
¼ cup all-purpose flour
1 ½ cups red wine
¼ cup tomato paste
4 cups vegetable broth
4 large portobello caps, sliced into strips
3 carrots, sliced into half-moons
1 tablespoon dried thyme
1 tablespoon dried rosemary
1 lb sliced seitan
Instructions:
Warm olive oil in a large pot over medium-high heat. Add onion and sauté until lightly browned, around 5 minutes. Add garlic and sauté for another minute. Add flour and stir to coat the onions and garlic.
Add the red wine and cook for a few minutes until the mixture thickens. Add tomato paste and stir to combine. Stir in vegetable broth and then add portobellos, carrots, thyme, rosemary, and seitan. Cover and cook over medium heat for 30 minutes, stirring occasionally.
Yields Serve 4
Per serving: 331 calories, 25.4 g protein, 38.9 g carbohydrates, 6.2 g fiber, 9.8 g sugars, 4.1 g fat, 0.7 g saturated fat, 0 g trans fat, 0 mg cholesterol, 1611 mg sodium, 128 mg calcium, 0 g omega-3 fats, 8471 IU vitamin A, 12.6 mg vitamin C, 1.5 mg vitamin E, 4.9 mg iron, 1 mg zinc