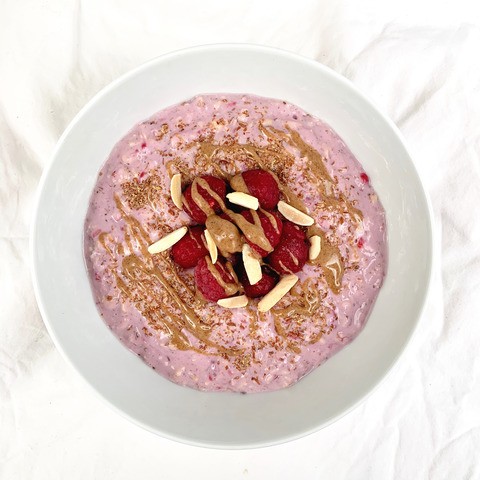 Recipe:
A big bowl of oatmeal is a great way to start your day, but who has time to cook a pot of oats every morning? Overnight oats are prepared in advance so all you have to do in the morning is grab a spoon and enjoy!
Oats are rich in filling fiber to keep you satisfied for hours. A combination of soy milk and soy yogurt creates the perfect creamy custard-like consistency and provides protein and calcium, which are essential for beautiful posture, strong nails, and a sparkling smile.
This overnight oats recipe incorporates antioxidant-rich raspberries and omega-3 rich flaxseed. Almond butter and almonds provide a healthy dose of heart-healthy fats.
Ingredients:
1 cup fresh or frozen raspberries
1 tablespoon ground flax
1 teaspoon slivered almonds
1 teaspoon almond butter
Instructions:
Make basic overnight oats recipe and stir in 1 cup fresh or frozen raspberries, 1 tablespoon ground flax, 1 teaspoon slivered almonds, and 1 teaspoon almond butter.
Yields 1 serving
Per serving: 454 calories, 17.9 g protein, 64.1 g carbohydrates, 16.2 g fiber, 20.6 g sugars, 15.9 g fat, 2 g saturated fat, 0 g trans fat, 0 mg cholesterol, 73 mg sodium, 513 mg calcium, 1.8 g omega-3 fats, 350 IU vitamin A, 32.9 mg vitamin C, 3 mg vitamin E, 4.1 mg iron, 1.7 mg zinc