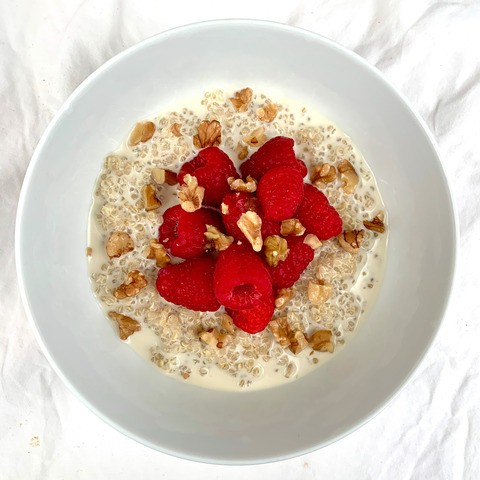 Recipe:
Quinoa for breakfast? It may sound strange, but it is a tasty and fun new way to switch up your breakfast.
Creamy soymilk, fruity raspberries, crunchy walnuts, and a touch of sweet maple syrup take a plain bowl of quinoa to the next level for an exciting breakfast. You can enjoy it cold like cereal or warm like oatmeal. Try switching up the toppings and creating your own flavor combinations.
Ingredients:
1 cup cooked quinoa
1 cup unsweetened soy milk
1 tablespoon maple syrup
1 cup raspberries
2 tablespoons chopped walnuts
Instructions:
Add quinoa to a bowl and top with milk, maple syrup, raspberries, and walnuts.
Yields 1 serving
Per serving: 516 calories, 18.9 g protein, 73.6 g carbohydrates, 15.2 g fiber, 20.5 g sugars, 18.2 g fat, 1.9 g saturated fat, 0 g trans fat, 0 mg cholesterol, 102 mg sodium, 396 mg calcium, 1.7 g omega-3 fats, 510 IU vitamin A, 32.4 mg vitamin C, 2.3 mg vitamin E, 5.1 mg iron, 3.9 mg zinc