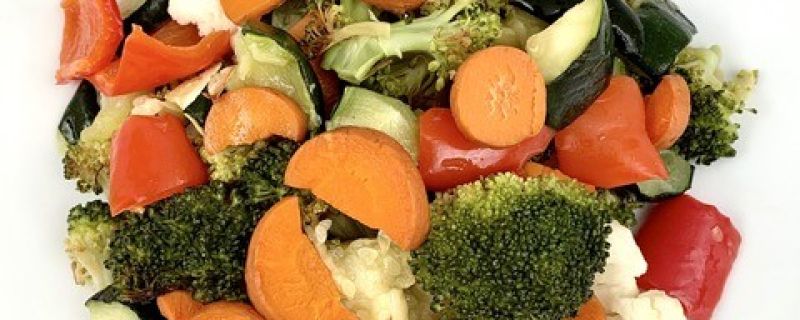 Ingredients:
1 large head cauliflower, cut into florets
2 large heads broccoli, cut into florets
3 large zucchinis, chopped
1 red bell pepper, chopped
2 carrots, chopped
1 tablespoon extra virgin olive oil
1⁄2 teaspoon salt
1 teaspoon garlic powder
Instructions:
Preheat the oven to 400 degrees Fahrenheit and line two large baking sheets with parchment paper. Toss the vegetables with the olive oil, salt, and garlic powder until coated. Spread the vegetables evenly in one layer across the prepared pans. Bake for 25-30 minutes until vegetables are tender and golden brown.
Yields 5 servings
Per serving: 201 calories, 13 g protein, 34.8 g carbohydrates, 12.6 g fiber, 13.8 g sugars, 4.8 g fat, 0.9 g saturated fat, 0 g trans fat, 0 mg cholesterol, 397 mg sodium, 193 mg calcium, 0.2 g omega-3 fats, 6724 IU vitamin A, 364.4 mg vitamin C, 3.2 mg vitamin E, 3.4 mg iron, 2.2 mg zinc